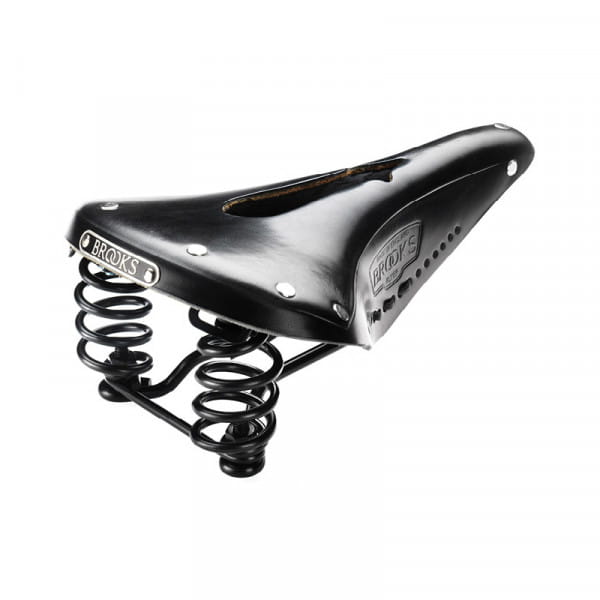 Brooks Flyer Imperial - black
Beschreibung
The traditional flyer combined with the proven Imperial relief notch.
Frame: steel
Length: 275 mm
Width: 175 mm
Height: 105 mm
Weight: 860 g
Property
| Eigenschaft | Wert |
| --- | --- |
| Color | Black |
| Gender | Men |
| Saddle clamp | Strut |
Persönliche Empfehlung
Evaluations
"Zeitloser Komfortsattel für die Ewigkeit für Vielradler und Langstreckenbezwinger sehr empfehlenswert."
Ich fahre seit 45 Jahren täglich mit dem Rad, habe also die Verkehrswende bereits hinter mir. Doch ich habe noch nie einen Ledersattel gefahren. Da ich alte Socke mir ein Fixie angeschafft habe und der mitgelieferte Sattel eine Katastrophe war, dachte ich mir ich probiere mal einen Ledersattel aus. Schon das Auspacken war wirkich ein Genuß, man sieht, dass der Hersteller viel Wert auf saubere Arbeit legt. Der Lieferumfang ist komplett, sogar mit Spannschlüssel und schönen Schnüren zum Binden und einem Minibriefchen Proofide zum ersten Fetten des Sattels. Das ist gleich in die Krustelkiste gewandert. Zum Einfahren des Sattels habe diesen auf der Unterseite mit Lederöl getränkt und die Oberseite dünn mit Lederseife eingerieben. Am nächsten Morgen bin ich dann damit die ersten 100 km gefahren. Das Gefühl war zunächst etwas ungewohnt, da ich Gelsättel fahre, aber nicht unangenehm. Nach der ersten Woche zur Arbeit fahren stellte sich dann das 'AHA!' Gefühl ein, nachdem sich das Leder gesetzt hat. Ich denke, ich werde nie wieder etwas anderes fahren, als einen Ledersattel. Es ärgert mich ungemein, dass ich so lange gezögert habe mir einen anzuschaffen. Werde sogar meinen Full-Carbon Flitzer mit einem Brooks nachrüsten. Sie sind zwar aufwändig in der Pflege, aber wenn man ihn mal eingeritten hat, will man nichts anderes mehr fahren...