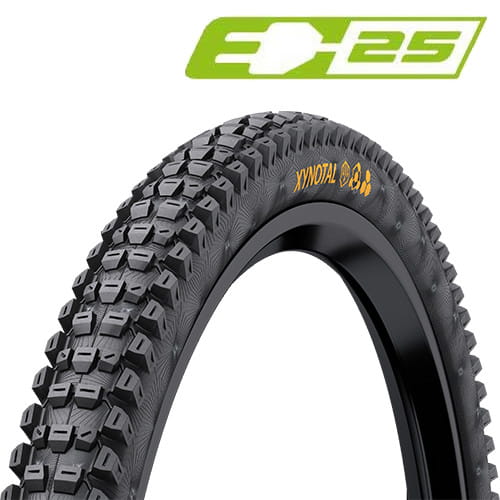 Continental Xynotal Downhill TL-Ready E-25 Falt Soft black / black skin - 60-584
Description
Specialist for hardpack and dry conditions
.
Inset, linearly arranged shoulder lugs for taxable and soft transitions. Thus, a high limit range can be achieved predictably and safely.
Precise positive profile with numerous contact areas promise a harmonious ride and high grip on hard and slightly loose surfaces.
Precise slopes in the direction of rotation provide a harmonious and easy running. Advantage: low rolling resistance and improved grip on hard surfaces.
.
6/660 tpi downhill casing for high resistance and puncture protection
.
Apex for high puncture protection
.
Tire compound with BlackChili
Tubeless Ready capable - optimized foot area for reliable sealing
.
foldable aramid core
Cross-woven nettle tape protects the tire and rim area
made in Germany
Soft compound
Balances grip and rolling resistance for downhill-heavy applications.
An option to optimize the running characteristics of your rear wheel on a downhill bike or as an optimal combination for enduro or trail riding.
Size: ETRTO 60-584 (27.5 x 2.40")
Type: Folding tire
Technology: Apex
Compound: Soft / Black Chili
Color: Black
Weight: 1220 g
Pressure: 2.5 - 3.5 bar
TPI: 6/660
TL Ready: yes
Property
| Property | Value |
| --- | --- |
| Color | Black |
| Model year | 2022 |
| Tyre width | 2.4 inch |
| Tyre size | 27.5 inch - ETRTO 584 mm |
| Weight | 1,22 kg |
| Material Feed | Aramid, Rubber |
Persönliche Empfehlung