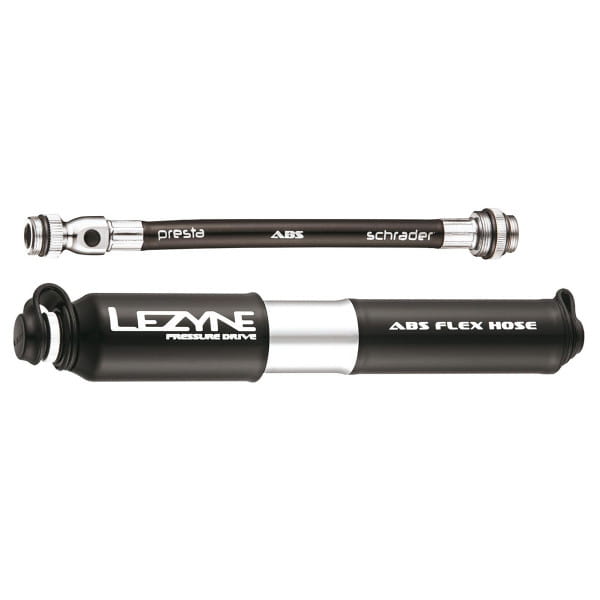 Lezyne CNC Pressure Drive - Small Minipump - blue
Description
The Lezyne Pressure Drive HP pump is a compact hand pump, which is made entirely of CNC machined aluminium for less weight and more precision. Thanks to the high-pressure design, the pump manages to fill tires up to 30% faster than comparable large hand pumps. The overlapping design of the handle and the piston ensures an even more compact design. The pump comes incl. the plastic frame holder and the familiar, flexible line.
Completely made from CNC machined aluminum
High volume design - with 30% more line
Overlapping design - even more compact design
Equipped with flexible cable and plastic frame mount
Material: CNC machined aluminum
Color: black, gold, red, blue
Size: Small
Length: 17cm
Weight: 89g
Max. Pressure: 120psi, 8.3bar
Speed Flex Hose: The Speed Flex Hose describes the system of a flexible hose with Presta thread, which is screwed onto the valve to start pumping quickly and easily. When you don't need the hose, you simply stow it inside the pump.
ABS Equipped: Air Bleed System (ABS). After using Presta valves, briefly press the ABS button to allow the air to escape from the hose so that you can easily remove the hose. When using Schrader valves, you can simply use the ABS button to regulate the pressure.
Aluminum Construction: Aluminum is a lightweight, durable material, which is used for handlebars, pistons, barrels, and a host of other components in a modern pump.

Pump Bracket: All hand pumps come with a frame bracket to keep your pump handy when you're out and about.
Property
| Property | Value |
| --- | --- |
| Color | Black |
| Material | Aluminium |
| Weight | 0,09 kg |
| Material Feed | CNC gefrästes Aluminium |
Persönliche Empfehlung