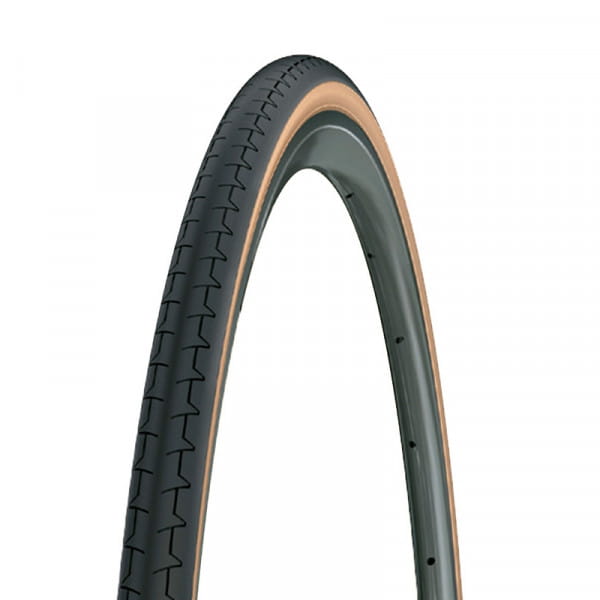 Michelin Dynamic Classic 28 inch clincher 700c
Description
The Dynamic Classic is a sturdy and high-performance clincher tire for everyday use that looks really retro because of its ''gumwall'' sidewalls.
And what better way to do that than to put a retro French tire on a retro French racer!
ETRTO: 20 - 622, 23-622, 25-622, 28-622
Weight: 275 g / 280 g / 310 g / 330 g
Carcass: 30 TPI
Property
| Property | Value |
| --- | --- |
| Color | Beige, Black |
| Impeller size | 28 inch |
| Tyre size | 28 inch - ETRTO 622 mm |
| Tyre width | 20 mm, 23 mm, 25 mm, 28 mm |
Persönliche Empfehlung
Evaluations
"Schnell und schick aber mit mangeln."
Sehen super aus und fahren sich wunderbar. Muss aber teilweise 2 mal im Monat meinen Schlauch, oft im wechsel vorne und/oder hinten tauschen weil ich teils winzig kleine Scherben oder spitze Steine habe die den Mantel durchstechen. Fahre nur in der Stadt.
"Sehr schöner klassischer Reifen. Praktisch ein Muss für französische Stahlrenner der 70ziger"
Schnittiger Reifen. Sehr schönes klassisches Design
"Klassiker!"
Für die Sanierung von Oldtimern ein guter und günstiger Reifen, der sehr gut zu alten Rädern aus den Siebziger und Achtzigern passt!
"Schnelle Lieferung, gute Qualität für wenig Geld "
Die Mäntel wurden schnell geliefert und haben die gewohnte gute Qualität. Ich bestelle die Mäntel häufiger, da sie perfekt zu meinem Retro Rennrad passen.
"Gut und günstig!"
Toller Retroreifen der sich super montieren lässt und auch eine gute Passform hat.Leider läuft er sich relativ schnell ab und leidet unter hohem Verschleiß.Sonst wirklich ein tolles Teil.
"Michelin Dynamic Classic "
ideal für mein Retrorad
"Super Optik"
Perfekter Reifen im Retro-Design, die einzige Option für ein altes Peugeot-Rad!
"Tolle Optik,sehr gut fahrbar "
Preis Leistung Optik top
"Guter Kauf, fairer Preis"
Solide Mäntel die dem Rennrad eine schicke Retrooptik verleihen und leicht aufzuziehen sind. Einziger Verbesserungsvorschlag: Verpackung war riesig, somit nicht ganz leicht zu transportieren.
"Oldscool Look, guter Lauf, Pannenschutz naja"
Für den Preis ein schönes Produkt. Passen sehr gut auf alte Rennräder wenn man auf den "period correct" look steht. Reifen lassen sich gut montieren, fühlen sich wertig an und laufen auch gut. Bei 6 Bar noch recht komfortabel. Was jedoch auffällt ist die sehr dünne Flanke und Lauffläche. Bin gespannt wie lange der erste Platten auf sich warten lässt...
"Günstiger Reifen für mein altes Hercules Stahlrahmen Rad"
Perfect für alle Stahlrahmen Klassiker
"Ich habe die Rekfen auf ein älteres Rennrad montiert dass ich als Fixie umgebaut habe. Sie laufen gut, sehen sehr hochwertig aus und lassen sich einfach aufziehen."
Sehr gutes Preis/Leistungsverhältnis
"Für Retro-Renner perfekt "
Ich habe die Reifen für ein 30 Jahre altes Rennrad gekauft. Die Reifen wirken hochwertiger verarbeitet als der Preis vermuten lässt. Sie lassen sich sehr gut montieren und laufen absolut rund.
Zum Laufen der Reifen muss man bei einem 30 Jahre alten Rennrad nichts weiter sagen als vielleicht "unauffällig und dem Alter des Rades angemessen " .
Zum Pannenschutz kann ich noch nichts sagen weil ich noch keine Panne hatte . Es ist beim montieren aber eine dicke Einlage in der Lauffläche spürbar. Ich werde die Reifen sicher noch einmal für mein anderes , 40 Jahre altes Rennrad kaufen.
Der Service von BMO war erstklassig .
"Top Retro-Styler zum schmalen Preis!"
Sehr leichter und ruhiger Lauf. Pannenschutz nicht überragend aber absolut ausreichend am Alltagsrad in der Stadt.
"alles gut"
bei dem Preis gibts nichts zu meckern - sieht am Bike spitze aus
"Solider Mantel für den Alltagsgebrauch "
Benutze den Mantel jetzt in bereits in der dritten Generation für mein Rennrad in der Stadt (ca. Wechsel alle zwei Jahre bei regelmäßigem Gebrauch).
Gute Verarbeitung und Preis/Leistung. Gegen Spitze Gegenstände wie z.B. Scherben ist er nicht gewappnet allerdings wäre dieser Anspruch wohl eher auch einer anderen Preiskattegorie zuzuordnen.
Alles in Allem also klare Empfehlung
"Super Artikel!"
Lieferung war sehr schnell bei mir. Passt perfekt zu meinem alten Rennrad.
"Alles bestens"
Schneller Versand , Preis Top kann man nur weiterempfehlen
"Super Retro renner"
Wirklich klasse von Style, und sehr ruhig auf der Straße. Top teile
"Guter Reifen"
Alles gut. Reifen kam mit einer über dimensionierten Verpackung aber das ist ja nicht schlimm ;)
"1A "
Schickes Teil 1A Preis Leistungs Verhältnis top, schlichtes Aussehen gut für alte Rennräder geeignet
"günstig und gut!"
Die Reifen sind super. Ich habe schon mehrere Paare verbaut. Sie passen prima an den Stahlrenner.
Für den Preis zu empfehlen! (Es ist natürlich kein Pannenschutz verbaut.)
"p-l super!"
günstiges und schickes Teil! Passt prima zum alten Stahlrenner!
"Jeder Zeit wieder bestellen "
Top! Bestes Preis/Leistung-Verhältnis! Ich bestelle den Reifen auf jeden Fall nochmal, sobald ich neue brauche. Zudem sehen sie sehr schön aus.
"Schöne Vintage-Optik, gute Verarbeitung, Lieferung superschnell. Rundum zufrieden! "
Schöne Vintage-Optik, gute Verarbeitung, Lieferung superschnell. Rundum zufrieden!
"Sehr guter Mantel"
Ein sehr schöner Retrofeifen. Lässt sich leicht aufziehen und bietet die gewünschte haptik
"Top!"
Passt super und zudem sieht die dazu noch sehr gut aus. Schnelle Lieferung, immer wieder gern.
"Super Preis-Leistungs Verhältnis. Schneller Versand!"
Alles super. Der Reifen idt wie in der Beschreibung super robust. Ausserdem ist er für 9,90€ super günstig und das Preis/Leistungsverhältnis ist unschlagbar. Ich bin super zufrieden!!!!
"Top preis Leistung "
Für den Preis ein top reifen! Leider noch nicht bei regen getestet
"Alles bestens."
Der Reifen ist optisch sehr gelungen. Die Montage einfach und schnell. Perfekt für ein über dreißig Jahre altes Rennrad.
"Klassisch, Schön, preiswert"
Für einen klassischen Rennrad genau das richtige. Habe bis jetzt 300 - 400 km damit gefahren und bin zufrieden.
Punktabzug wegen einem Schwarzem Streifen mit Logo Aufschrift auf dem gelben Rand. Stört mir rein optisch
"10 sehr gut"
Das war der beste Reifen seit vielen Jahren.
Ausgezeichnete Rolleigenschaften, mit der gleichen Pedalkraft
2 - 3 Stundenkilometer schneller. Note 10 sehr gut ist nicht übertrieben.
"Haltbar! Super Retro Look!"
Toller Reifen im RETRO Look. Hat mir gute Dienste bei der Eroica geleistet!
"Super Reifen, für klassische Franzosen die beste Wahl."
Super Reifen mit guter preisleistungs Verhältnis. Fahre ihn auf meinen Klassikern.Im Renneinsatz bin ich bis jetzt in Kombination mit den continental race Schläuchen Pannenfrei geblieben.
"guter Reifen"
guter Reifen für Retro - Fahrräder
"Super schöner Retro Reifen "
Sieht klasse aus und lässt sich super fahren.
"gut"
preis leistung ist einfach top.
"Gutes Preis- Leistungsverhältnis"
Gutes Preis- Leistungsverhältnis. Bei trockenem Wetter gute Fahreigenschaften - bei Nässe etwas "schmierig". Aber wer fährt schon bei Regen Rennrad :-)
"läuft sauber"
läuft sauber
"Gutes Preis-/Leistungsverhältnis"
Optimaler Reifen für optisch schöne, jedoch günstige Retrorennräder. Guter Allroundreifen mit ausreichend Grip.
"Diese Reifen sind wirklich perfekt für einen Klassiker"
"Retrochic. "
Klassischer Reifen für klassische Fahrräder. In 28er auch recht alltagstauglich. Einen hohen Pannenschutz darf und kann man aber nicht erwarten. Da muss man realistisch sein.
"Gute Qualität und Design. Kaufempfelung für Retro Fahrräder "