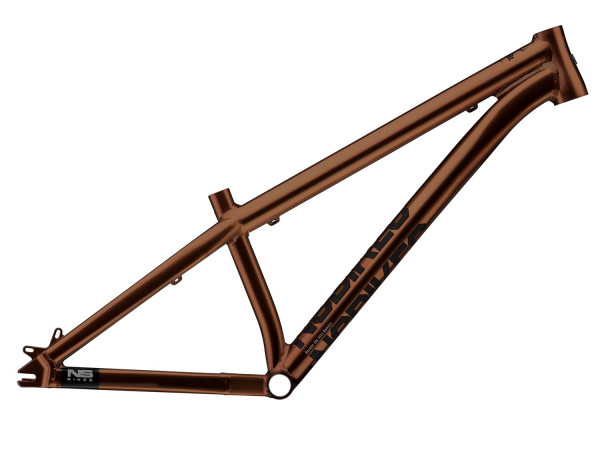 NS Bikes Decade V2 (DJ - Alu) Rahmen - chocolate
Description
Der Decade V2 wurde nach Pro-Standards entwickelt und reagiert sehr schnell, ist äußerst zuverlässig und einfach zu steuern. Außerdem ist dieser NS Bikes-Rahmen leicht, sehr erschwinglich und ermöglicht es Ihnen, Tricks zu meistern und Lücken mit Zuversicht zu schließen.NS Bikes Pro-Level Dirt Jump RahmenDieses Modell ist der beliebteste Rahmen unter NS Bikes Pro-Fahrern. Der Decade wird von Szymon Godziek und Max Fredriksson im Wettbewerb eingesetzt und ist leicht, stark und reaktionsschnell. Außerdem bietet er alle Funktionen, die Sie von einem modernen Pro-Level-Dirtbike-Rahmen erwarten würden, der von einem Unternehmen mit einem Dirt-Jumping-Erbe hergestellt wurde.Starke, langlebige und reaktionsschnelle LeistungEs eignet sich am besten für Gabeln mit einem Federweg von 100 bis 140 mm und verfügt über ein vollständig integriertes konisches Steuerrohr, das Gabeln sowohl mit Standard-1 1/8" als auch mit konischen 1,5 - 1 1/8" Gabelschaftrohren aufnehmen kann. Das optionale Schaltauge ist separat erhältlich, wenn Sie lieber durch die Gänge schalten.
MAIN CHANGES FOR 2021
new color options
revised geometry with adjusted seattube angle
perfect saddle position - easier to clamp knees down on the perfectly
positioned saddle for no hander tricks and barspins
removable gyrotabs included
MAIN FEATURES
choice of Szymon Godziek, Dawid Godziek
73mm threaded BSA BB
high-end aluminium dirt jump hardtail
incredibly strong yet still very light at just over 2.1kg
fits forks with standard and tapered steerer tubes
unlimited barspins w/ gyro
Less damage w/ gyro when crashing or throwing out the bike as the cables are free
really nice price
Material: AL6061-T6 + AL6066-T6 custom formed and butted tubes, smooth double pass welding in critical areas
Recommended fork travel: 80-120mm,
Head tube: integrated tapered IS42/IS52, head tube length: 115mm/ 4,5"
Fits forks: fits forks with standard 1-1/8" or tapered 1.5 1-1/8" steerer tubes
BB: threaded 73mm BB
Biggest chainring: BOOST only up to 32t
Rear hub: 135x10mm, horizontal dropouts, suggested bolt-on hubs
Disc brake: IS-2000 disc brake mount, max rotor size: up to 185mm
Front derailleur: not compatible
Rear derailleur: optional derailleur hanger available separately.
Seat post/clamp: 30.9mm / 34.9mm
Max seat: post insertion 210mm
Max tire: 26 x 2.35"
Weight: ~2.15kg
Property
| Property | Value |
| --- | --- |
| Age group | Adults |
| Gender | Unisex |
| Material | Aluminium |
| Model year | 2022 |
| Impeller size | 26 inch |
| Bike World | Mountain Bike World |
| Color | Brown |
| Brake mount | IS 2000 - International Standard |
| Tax rate type top | IS42 (1 1/8 in. integr. Ital.) |
| Tax rate type below | IS52 (onepointfive integr.) |
| Fork travel | 80 mm |
| HR installation standard | 10 x 135 mm |
| Head tube size | 1 1/8 inch |
| Housing standard | BSA 73 mm |
Customers also purchased
Persönliche Empfehlung