Unfortunately, this product is no longer available
Alternative Empfehlungen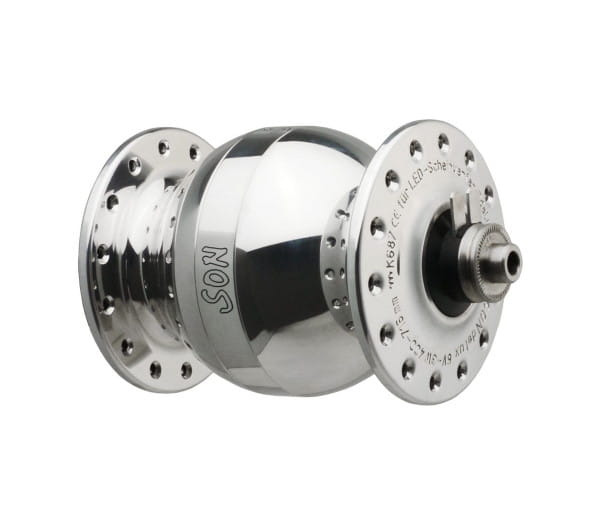 SON Hub dynamo SONdelux Wide Body - polished silver
Description
The SONdelux is the first hub dynamo whose generator is specially designed for modern LED headlights (such as Edelux and B&M Cyo). Since December 2009, the SONdelux - in combination with Edelux - has the StVZO approval for all wheel sizes (16'' - 28''). An LED is - in contrast to the halogen bulb - also highly effective at partial load, i.e. when it is operated below its rated power. Therefore it is no longer necessary to build the dynamo in such a way that it reaches its full power already at the lowest possible driving speed. The SONdelux is therefore smaller and lighter than a hub dynamo for halogen lighting (SON 28). The power consumption in no-load operation is reduced by 30 - 35% compared to the SON 28. However, in terms of robustness and high quality finish, the SONdelux is the same as the SON 28.
16'' to 28'' compatible and approved
Equipment or batteries can be charged with it
Running losses are reduced by30-35% compared to the SON 28
Smooth running deep groove ball bearing
Flat plug: 4.8mm, double pole
Flange spacing: 68mm
Installation width: 100mm
Weight: 390g
Hollow axle (10mm)
6v / 3W according to StVZO
Number of holes: 20, 24, 28, 32, 36
Scope of delivery:
1x hub dynamo SONdelux Wide Body - polished silver
1x thru axle (hexagon socket)
without cable
Manufacturer's warranty:
We give a 5-year warranty on the function of our hub dynamos, headlights, taillights and wheels from the date of purchase from a specialist dealer.
The warranty does not apply to damage caused by normal wear and tear, improper use or force (such as an accident).
In the event of a warranty claim, we will repair the product at our discretion or replace it with an equivalent product.
We will also carry out the re-spoking of a defective hub dynamo in the event of a warranty claim at our expense.
Further claims are excluded.
Your statutory warranty rights remain unaffected.
To make a claim under the warranty, please contact your specialist dealer.
Property
| Property | Value |
| --- | --- |
| Color | Silver |
| Installation standard | 9 x 100 mm (VR) |
| Number of holes | 28, 32, 36 |
Persönliche Empfehlung