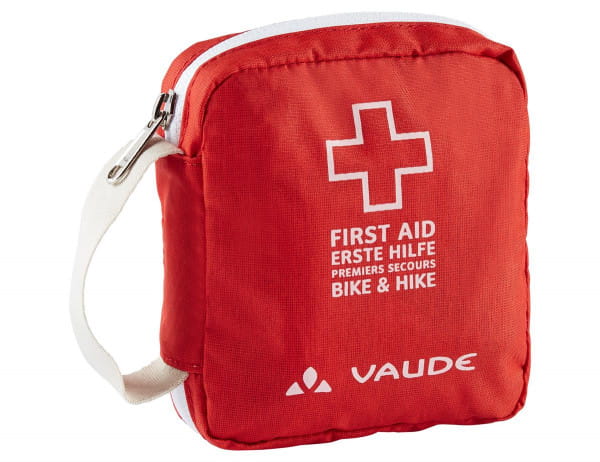 Vaude First Aid Kit S red
Description
The VAUDE First Aid Kit L brings everything you need for the first aid of minor wounds and injuries while hiking, hiking or biking. The size and equipment is suitable for small groups or longer ventures. It has enough bandages on board and also an additional space for your own medications. For ease of use, it includes an integrated organizational pocket with easy-to-understand pictograms. Despite its rich equipment, the First Aid Kit L is just the right size to easily fit in your backpack and is made from robust, 100% recycled material that ensures a long product life. The VAUDE Green Shape label stands for an environmentally friendly, functional product made from sustainable materials.
Material:100% polyester (recycled)
.
Suitable for various bike and hike activities
.
First aid contents packed separately in waterproof organizer bag
.
Two interior pockets for personal medications
.
carry handle
Emergency information inside
First aid instructions
Contents: 1x WS fixation bandage (4mx8cm), 1x wound dressing, sterile (8x10cm), 1x wound dressing, sterile (6x8cm), 3x wound closure strips, 1x wound compress, sterile, 1x burn dressing, sterile, 1x triangular cloth, 3x finger plasters Butterfly (44x76mm), 3x finger plasters (20x120mm), 4x plaster (25x72mm), 2x plaster (19x72mm), 6x plaster (10x6cm), 3x blister plaster, 6x alcohol swab, 1x adhesive plaster (5mx2,5cm), 6x safety pins, 1 pair of disposable gloves, 1x emergency blanket (160x210cm), 1x small scissors, 1x tweezers
.
Property
| Property | Value |
| --- | --- |
| Model year | 2022 |
| Color | Red |
| Material Feed | 100% polyester (recycled) |
Persönliche Empfehlung