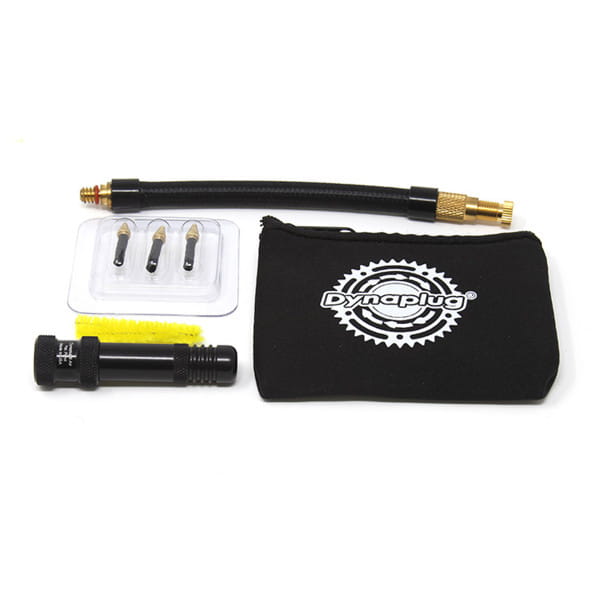 Dynaplug Tubeless Repair and Ventilation Kit for Road - Black
Description
The DYNAPLUG Air repair kit is the unique, fast solution for flat tires for all tubeless tires and a reliable, compact repair tool with extreme durability and efficiency!
Put the plug into your tubeless tire for repair and inflate it at the same time with the CO2 cartridge.
The kit is made for spot repair in a tubeless tire. This saves valuable seconds in the race and gives you all the benefits of your tubeless tires. Using a simple brass-tipped rubber plug that you stuff into the hole of the tire, it's easy to fix damage that would otherwise put an end to your ride.
Simply remove the foreign object that caused the air loss from the tire, place the plug at the hole and press in firmly, inflate - done!
Without removing the tire, without glue, without waiting.
Tubeless tire damage can be repaired quickly and efficiently. This makes time-consuming tire repair a thing of the past from now on!
Material: aluminum, stainless steel, brass, rubber
Compatibility: tubeless tire systems
Dimensions: approx. 65 mm x 16 mm
Weight: approx. 20g (without CO2 cartridge)
Scope of delivery: 1x Dynaplug Air , 4x repair plugs with tip, 2x 16g CO2 cartridge
Customers also purchased
Persönliche Empfehlung