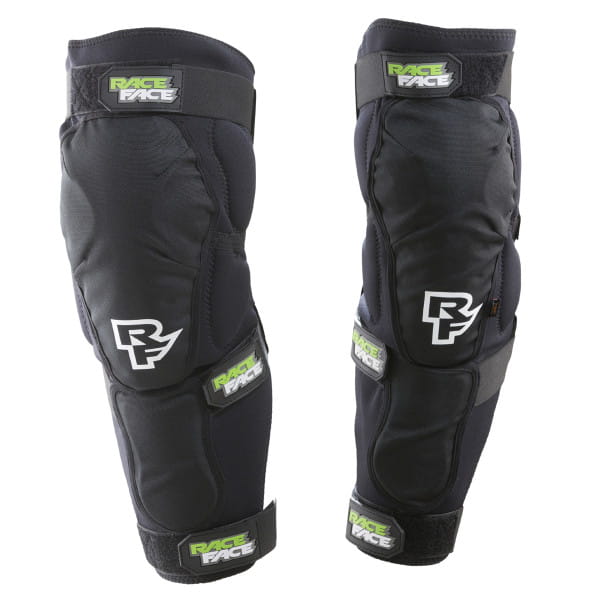 Race Face Flank Leg D3O Knee Shin Protector
Description
The Flank is equipped with D3O Shock Absorbing foam pads, which are soft and flexible at rest but harden in a flash upon impact, providing safety with maximum comfort and minimum weight.
D3O high performance shock absorbing foam
Shoes do not need to be removed to put on the protectors
perforated neoprene provides good ventilation and keeps moisture at bay
Side padding protects your knees from side impacts
Sizes: S, M, L, XL, XXL
Color: Stealth
Property
| Property | Value |
| --- | --- |
| Color | Black |
| Age group | Adults |
| Gender | Unisex |
Persönliche Empfehlung
Evaluations
"Unglaublich gute Schoner!"
Ich habe mir zu Testzwecken Schoner von Dainese, POC, FOX und Race Face bestellt. Die Variante von RF ist mit Abstand die beste! Das Knie wird super geschützt - auch an den Seiten, was bei den anderen Schonern nur eingeschränkt der Fall war. Auch der Komfort ist perfekt. Man merkt sie nach 5min überhaupt nicht mehr.
"Gut verarbeitet"
Gut verarbeitet. Größe L fällt etwas kleiner aus. Schienbeinschutz sehr schmal und nicht gepolstert.
"sehr gut"
Liegen mega gut an und sind so bequem man merkt sie kaum. Meiner Meinung nach die perfekten schoner für die beine.
"Guter Schützer"
Der Flank Schützer von RF ist
+ schnell anzulegen (ohne die Schuhe ausziehen zu müssen)
+ passt sehr genau (je nach Größe)
+ auch bei längerern Touren nicht störend
+ sehr leicht

neutral:
- wirkt im Schienbeinbereich wenig geschützt
- hatte noch keinen Einschlag, vertraue jedoch auf den D3O Technologie


"Sitzt bombig und schützt gut"
Ich habe mir eine ganze Kiste Schöner zur Auswahl schicken lassen. Die RF haben mir mit Abstand am besten getaugt. Es sind weiche Schoner, die sich gut anpassen und zum Anziehen voll geöffnet werden können. Erst mit einem kleinen Klett grob fixieren, dann mit dehnbarem Band fest. Das ganze dreimal und fertig. Der Schienbeinschutz ist etwas kürzer, reicht aber m.E. gegen üblichen Kontakt mit Bärentatzen.
"Top!"
Angenehm zu tragen, sehr einfach anlegbar. Eventl. lieber eine Nummer größer Bestellen.
"bequem, rutschfest, top zum Anziehen ohne die Schuhe auszuziehen"
Ein top Schoner, der bequem ist, nicht rutscht und zu dem noch schützt. Darüber hinaus muss man den Schoner nicht wie bei vielen anderen Modellen über die Schuhe ziehen, sondern man legt ihn einfach an.