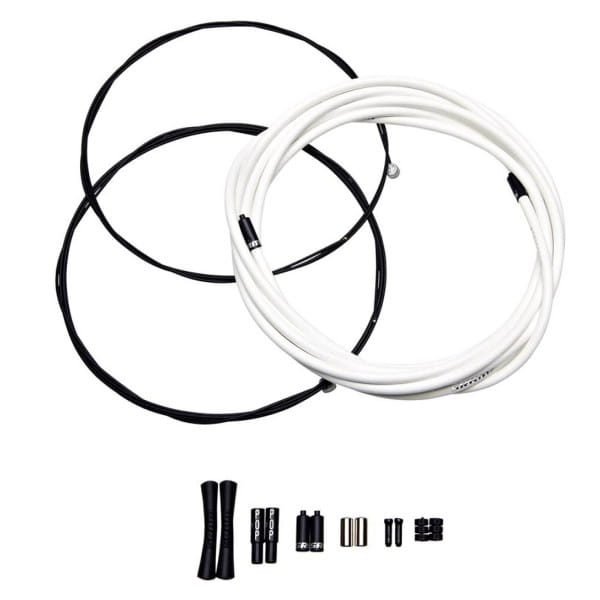 SRAM SlickWire MTB brake cable set 5mm - colored - white
Description
The original SRAM SlickWire brake cable set is compatible with mountain bikes and surprises with extremely low friction and low maintenance function.
Features:
For two brakes - complete set incl. Bowden cable and outer cover
MTB compatible - also compatible with disc brakes
1.6 mm DuPont Teflon coated stainless steel bowden cable - durable, low friction
5 mm nylon outer sheath, lubricated inside - low friction, perfect function
Short end caps throughout to avoid having to separate brake cables - less maintenance
Stainless steel brake cable set including outer cover, 2 frame protectors and aluminum end caps
Available in black, white, red, blue - perfect to pimp your bike
Supplied with: 1 x outer cover, coloured, full length, 2115 mm 2 x inner cable, stainless steel, Teflon coated 2 x frame protectors to protect paint 2 x end sleeves to secure Bowden cable 3 x rubber rings to slide onto Bowden cable to protect top tube from scratches 2 x brake end stops, silver 2 x small brake cable stops 2 x large brake cable stops
Color: black, white, red, blue
Size: for MTB
Property
| Property | Value |
| --- | --- |
| Color | White |
Personal recommendation
Evaluations
"Alles dabei, was man braucht um sein Bike deutlich aufzuwerten"
Die Züge laufen butterweich, ein deutlicher Unterschied zu günstigen Zügen und Hülsen.

Im Set fehlt nichts, man muss wirklich gar nichts extra kaufen.

Am besten fand ich, dass bei der Variante in schwarz am Ende auch wirklich alles schwarz daher kommt. Sehr schicker Look!