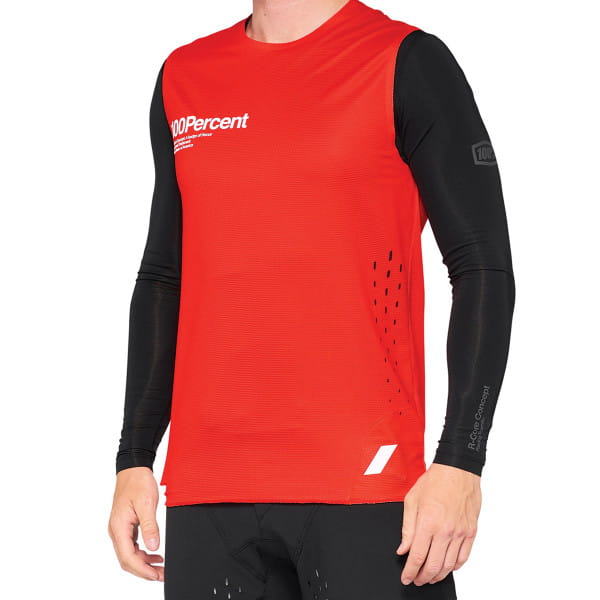 100% R-Core Concept Sleeveless Jersey - Tank Top - Red
Description
The R-Core Concept Tanktop uses key experience and redefines standards to deliver innovative results. When every split second counts, an optimal aerodynamic fit can make all the difference. When paired with the R-Core Concept Long Sleeve and R-Core X Pants, the R-Core Concept combo offers maximum mobility in any position. The two-piece upper body unit consists of a long sleeve in a polyester/spandex stretch fabric, combined with this ultra-lightweight sleeveless jersey for an aerodynamic fit and improved ventilation with the utmost freedom of movement.
Best ventilation
Antibacterial and quick-drying fabric
Aerodynamic fit
Reflective logos for added safety
Bonded neckline and arm openings for increased comfort and weight savings
Integrated eyewear cleaning cloth
You can wear it over the R-Core Concept LS Jersey or just like that!
Material: 94% Polyester, 6% Elastane
Customer information: The image shows the product in combination with the specially designed R-Core Concept Compression Long Sleeve Jersey, which is worn under the TankTop!
Property
| Property | Value |
| --- | --- |
| Gender | Men |
| Age group | Adults |
| Material | Polyester, Spandex |
| Color | Red |
| Sleeve length | Sleeveless |
Personal recommendation