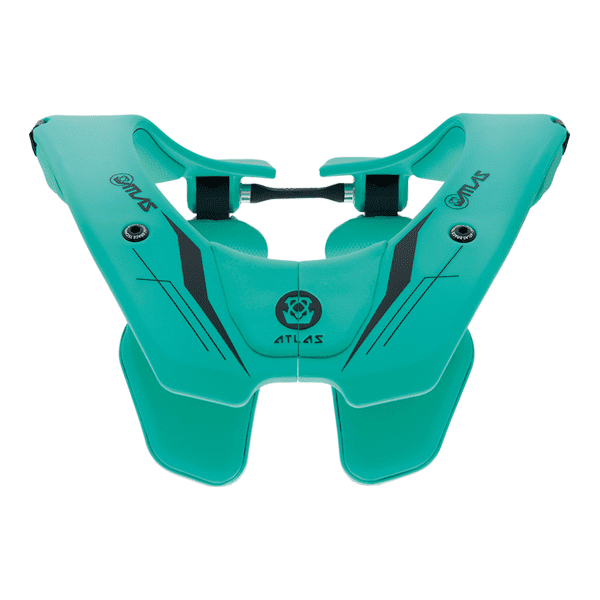 ATLAS Brace Prodigy Brace - Turquoise
Description
The ATLAS Prodigy Brace is the perfect companion for teens and small women - it's designed specifically for those seeking ideal safety for themselves.
Featuring its proven design, the Prodigy Brace features a reduced weight of 550g and a new torso-hugging shape to minimize slippage and optimize mobility. It also features a simplified closure system, a stronger and stiffer suspension area on the chest, and a back support that appears smaller than usual but has a higher contact area. Furthermore, Atlas Brace's new double-sided Smart Mount comes into play, allowing for variable angle adjustments, as well as lighter but stronger pads and a revised, innovative closure system that eliminates the need for additional tools. The Atlas Prodigy Brace is designed to grow with you while delivering all the groundbreaking features that make Atlas Brace the best in the world.
Size: 74-84 cm chest circumference (measured with chest protector)
Easy-open system made of aluminum 7000 for improved strength as well as precision
Chest and back pads made of EVA with special weight-reducing pattern
Front suspension with 30 mm of travel (300 percent increase) for effective impact absorption
Split flex frame allows optimal freedom of movement
Weight: 550 g
Each Atlas Brace is versatile. Whether motocross, enduro, BMX, MTB, ATV and snowcross - as long as you wear a full-face helmet, an Atlas Brace can be used.
Property
| Property | Value |
| --- | --- |
| Age group | Adults, Children |
| Model year | 2020 |
| Gender | Unisex |
| Color | Turquoise |
Persönliche Empfehlung