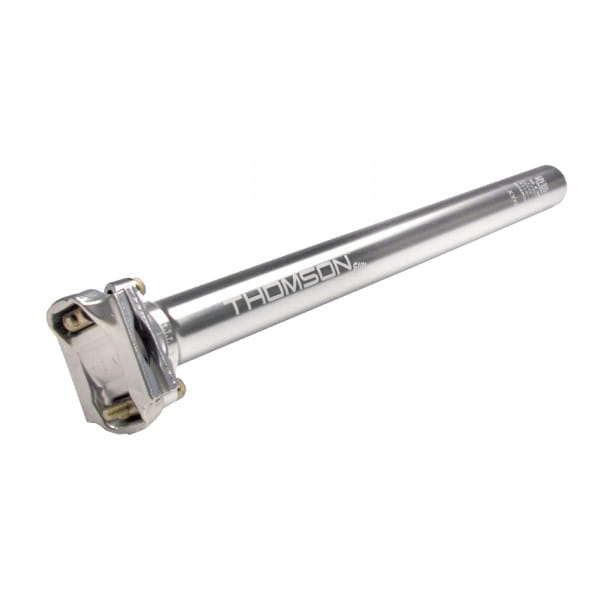 Thomson Elite seatpost - silver
Description
The Thomson seatpost has become the reference of all seatposts on the market. It combines lightweight construction with the typical Thomson characteristics of stability and function.
Over 40% more stable in tests than the previous most stable post on the market
Tube and head of the prop are seamlessly machined from one piece ofAluminum and CNC'd out
Optimum weight to stiffness ratio
41 mm long saddle stays for perfect clamping
the stays withstand a bending moment of 475 Nm without breaking
every part of the post is 100% Made in America
flat clamping
Designs and materials stand up to the strongest tests
Material: CNC machined from 7000 aircraft grade aluminum
Adjustment: -5° and +29°
Diameter: 25.4 mm, 26.8 mm, 27.2 mm, 29.0 mm, 30.9 mm, 31.6 mm
Length: 250 mm, 330 mm, 367 mm, 410 mm
Weights (approximate): 250 mm: 201 g, 330 mm: 214 g - 241 g, 410 mm: 246 g - 289 g
Color: silver
Property
| Property | Value |
| --- | --- |
| Material | Aluminium |
| Color | Silver |
| Length | 410 mm |
| Diameter | 27.2 mm, 30.9 mm, 31.6 mm |
| Material Feed | CNC-gefertigt aus 7000 Flugzeug-Aluminium |
Persönliche Empfehlung
Evaluations
"Stabilste und steifste Aluminiumsattelstütze auch in älteren und weniger gängigen Maßen erhältlich"
Wie von Thomson nicht anders gewohnt ist auch diese Sattelstütze mit 25,4mm Durchmesser ein Traum, was stabilität, Steifigkeit, Gewicht und Optik angeht. Ins besondere bei den heute katastrophal-flachen Sitzrohrwinkel mit unter 75° ist eine Sattelstütze ohne Versatz nach hinten wie diese Thomson massiv von Vorteil um die Antriebsergonomie zu optimieren, die zwei Schraubentechnik erlaubt nicht nur eine wirklich stabile und feste Klemmung/fixierung des Sattels, sonder ermöglicht spielnd einfach undstufenlos, die genaue Winkeleinstellung der Sattelposition.