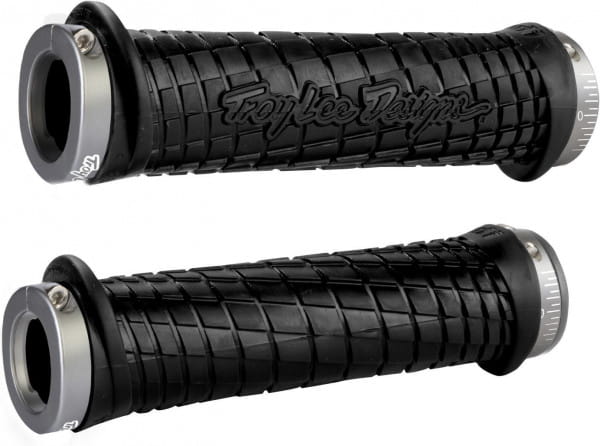 Odi Grips Troy Lee Lock On Grips - black - lockring grey
Description
These are the ODI Lock On grips with Troy Lee signature. Included are clamp rings and caps.
Colors: Black/Grey, Orange/Blk, Aqua/Blue (light blue/blue), Red/Black, White/Red, Yellow/Grey
with Troy Lee signature
incl. clamp rings
incl. caps
Length: 130 mm
Outer diameter: 29.5 mm
Weight: 98 g
Property
| Property | Value |
| --- | --- |
| Color | Black, Grey |
Persönliche Empfehlung
Evaluations
"Einfach super"
Super Halt bergauf und noch viel wichtiger bergab.
Tolle Qualität zu einem wirklich günstigen Preis und somit sehr zu empfehlen!
"Perfekter Grip"
Liegt super in der Hand und gibt starken halt beim Downhill.
"Sehr guter grip. Preis / Leistung ist genial."
Würde ich sofort wieder kaufen. Sehr guter grip. Preis / Leistung ist genial.
"Super Griffe. Klare Kaufempfehlung! "
Die TLD Griffe von Odi sind seit zwei Jahren meine Lieblingsgriffe: die richtige Gummimischung und ein super Profil machen sie einfach unschlagbar.
"Top Grip !"
Bin super zufrieden mit den Griffen. Haben einen top Grip! Habe die orangenen Griffe, sind mehr Neon-Rot/Orange, mir gefällt es :-). Montage geht einfach und schnell...
"Insgesamt sind die Troy Lee Designs ODI Lock on grips gut."
Habe mir die Troy Lee Designs ODI Lock on Griffe bestellt, das sie guten grip haben sollen und langlebig sein sollen.
Und ich kann nur sagen, der Grip ist echt ultra gut. Zur Langlebigkeit kann ich noch nicht so viel sagen, aber ich hatte da schon deutlich schlechtere Griffe.
Auch die Montage war einfach und ging schnell.
Ich weiß nicht, was ich noch sagen soll, aber ich bin einfach nur begeistert von ihnen.

Lg
TheJumpion
"Komplizierter Zusammenbau"
Die Griffe sind sehr gut verarbeitet und fühlen sich in der Hand gut an. Sie geben ein zusätzliches Gefühl von Sicherheit.
Jedoch war ich nicht in der Lage die Lockringe gleich an den Griffen zu montieren.
Trotz mehrfacher Änderung sind die Schraubenköpfe in unterschiedlicher Richtung, was beim montieren etwas stört und optisch nicht 100% gibt...
"Sehr gute Qualität"
Gute verarbeitung, schöne verarbeitung, tolle Farben, sehr abriebfest
"Sehr gute Qualität"
gute Qualität, güntiger Preis, tolles Design, schöne Farben
"DIE BESTEN"
kann ich nur empfehlen....!!
Fahr die Grips auf jedem meiner Fahrräder und bin einfach nur begeistert davon.
"Super Griffe"
Die Griffe haben einen hervorragenden Grip - mit und ohne Handschuhe - und lassen sich sehr leicht montieren. Würde ich wieder kaufen.
"haltbar und Guter Grip"
gute Montage, halten fest, Bar-Ends sind gut gesichert, guter Grip (mit Handschuhen)
"Sehr gut"
Sehr gut, stabil,
jeder Zeit wieder, Super Preis.
"Ist schon mein zweites Paar, kenne keine bessern ..."
"perfekt"
absolut perfekt, schnelle Lieferung
"Bewährte ODI Qualität"
Ich habe inzwischen das dritte paar dieser Griffe im Einsatz und bin eigentlich absolut zufrieden. Super grip, gutes Design und lässt sich super mit meiner KindShox Lev kombinieren. Die Dinger könnten nur noch ein wenig langlebiger sein.