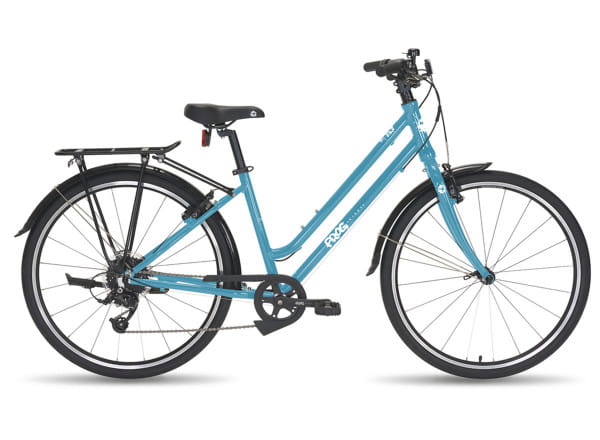 Frog Bikes Frog City 67 - Blue
Description
Frog City 67 - the ultimate urban bike for 10 to 12 year olds with an average inside leg length of 67cm.

The Frog's City Bike is designed for everyday use. Kids can ride the Frog City to school or just explore the city at their own pace, where they can whiz through different terrains and ride around town in comfort and style.

The Frog City Bike features youth-specific 8-speed shifters from FrogFitTechnology® that are best suited for moderate speeds and hills. They are perfect for efficient city riding. This versatile bike is equipped with a "floating" chain guard, full-length mudguards, a side stand and a luggage rack, so riders are fully equipped for the city.


Wheel size: 26 inch

Handlebars and frame
With its slightly curved handlebars and longer head tube, the design allows for a more upright and comfortable riding position. The lightweight aluminum frame with low step-through allows for smooth mounting and dismounting, making the bike easy to ride and maneuver through the streets.

Gear Shifters
The 8-speed derailleur and FrogFit Technology® shifters are made for moderate speeds and hills and are perfect for efficient city riding.

Floating Chainglider
The floating chainglider, designed and manufactured in collaboration with Hebie, prevents clothes from getting caught and the chain from getting dirty. It can be easily removed for cleaning and maintenance without tools.

City Accessories
The bikes are equipped with full-length mudguards, reflectors, a side stand and a rear rack, so riders are fully equipped to venture around town.


Why a Frog City 53?
Lightweight, durable aluminum frame - for easy handling around town
.
City design with low step-through - for easy on and off
.
Junior Tektro brakes - with small, easy-to-reach brake levers that allow for better control and more confidence for junior riders
.
Patented Frog cranks - reduce the distance between pedals, increasing efficiency and comfort and making pedaling easier
.
Gear shifters - FrogFitTechnology® youth-specific 8-speed shifters provide more reach, allowing riders to effortlessly find the right gear
Low resistance Kenda City tires - very durable and ideal for riding on varied terrain in the city
.
Floating chain slider - for added safety and protection of the chain. Easy to remove for maintenance
Low bottom bracket - for a more ergonomic riding position and better stability
.
Adjustable handlebar height - to allow the handlebars to be lowered or raised within a range of 40mm to suit the child's height
.
Supplied accessories - reflectors, mudguard, luggage rack and side stand included
.
Free 5 year warranty - on frame and forks
.
Property
| Property | Value |
| --- | --- |
| Color | Blue |
| Gender | Unisex |
| Age group | Children |
| Model year | 2022 |
| Impeller size | 26 inch |
| Brake system | Rim brake |
| Circuit type | Derailleur |
| Number of gears | 8 |
| Bike World | Kids Bike World |
| Suspension | No |
| Material Feed | Aluminum |
Persönliche Empfehlung