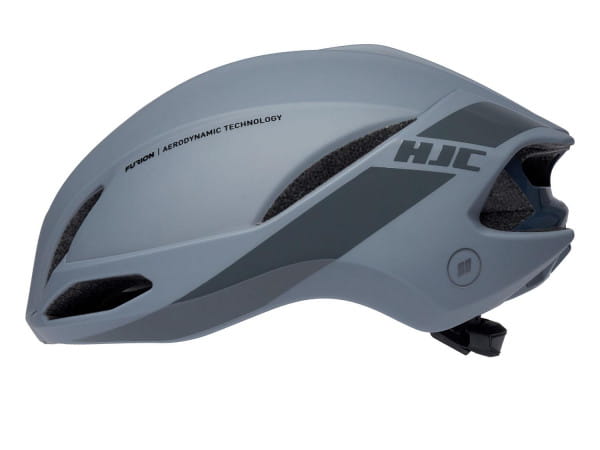 HJC FURION 2.0 Road Helmet Matt Dark Grey
Description
The years of MotoGP experience is particularly evident in FURION 2.0, the semi-aero road helmet. Its aerodynamic shape, light weight (about 190g) and technology make FURION 2.0 an efficient, well-drained and comfortable semi-aero helmet. New to the FURION 2.0 are the closure system SELFIT™, the COOLPATH™ technology and an exciting new color selection: from matte to glänzend, monochrome, patterned and with color gradients is everything.

Special features:
- tested in the wind tunnel (7% energy savings compared to Konkurrezmodellen)
- Selfit™
- Coolpath™
- Holder für cycling glasses

included:
- Carrying bag for transport

SELFIT™
The new technology patented by HJC SELFIT™ brings fit, comfort and Präzision to a new level: the closure system works – different from the previous models and the helmets ATARA and VALECO used – not by a Rädchen at the back of the head, through which you can adjust the hold, but by a spring system. Fünf Verstellmöglichkeiten ermöglichen an adjustment to the individual head shape, which must be adjusted only once – after that, the helmet can then simply be tightened by the spring system and so adapts to the head während the ride without further readjustment.

COOLPATH™
Another novelty is the COOLPATH™technology, which replaces the inner padding of the helmet. Unlike conventional helmet pads, the air can thus not only strömen from front to back, but can circulate around the head. By saving the cushion is also reduced the overall weight of the helmet and the wearing comfort is increased.
.
Property
| Property | Value |
| --- | --- |
| Age group | Adults |
| Color | Grey |
| Gender | Unisex |
| Model year | 2022 |
| Weight | 0,19 kg |
| Bike World | Road Bike World |
| Material Feed | Polycarbonate |
Persönliche Empfehlung