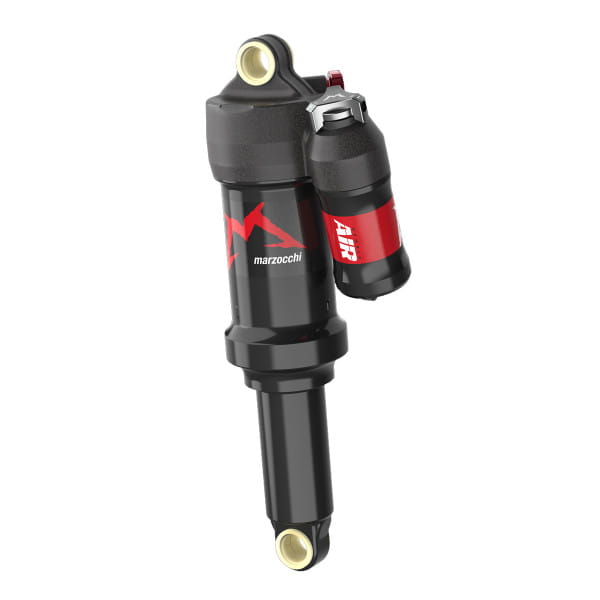 Marzocchi Bomber Air Air Damper 210x55 mm - Black
Description
The new Bomber Air damper! With its specially designed asymmetrical reservoir, the Bomber Air fits much better in a wider range of frames, with the compression adjustment dial always easily accessible. The large volume shock reservoir features higher oil flow and more volume for consistent performance on the biggest hits and longest descents, so you can let it rip with maximum confidence. At the same time, the Sweep Adjust compression adjustment makes fine tuning right on the trail a breeze. The damper will be available in an extensive range of sizes and covers a wide range of applications from dirt jump bikes to short-travel trail bikes to Rampage-ready DH bikes. With its unique internals, our legendary Bomber ruggedness, and special tuning, this shock will give you the confidence to ride anything you want.
Asymmetrical reservoir for improved compression adjustment and frame compatibility
.
Aligning air valve for easier inflation and increased frame compatibility
.
Easily adjustable for all rider weights and riding styles
.
The downhill-ready shock fits all Marzocchi forks, from DJ to Z2 to 58
.
2-pos compression adjustment without detents allows easy fine tuning similar to our suspension forks
.
Innovative, easily tunable Sweep Adjust stop
.
Available in metric lengths as well as trunnion mount
.
Bearing hardware compatible (both sides)
Available travel spacers to reduce hub
.
Volume spacers with finer graduation
.
Property
| Property | Value |
| --- | --- |
| Color | Black |
| Damper installation length | 190 mm |
| Model year | 2023 |
| Damper stroke | 45 mm |
Persönliche Empfehlung