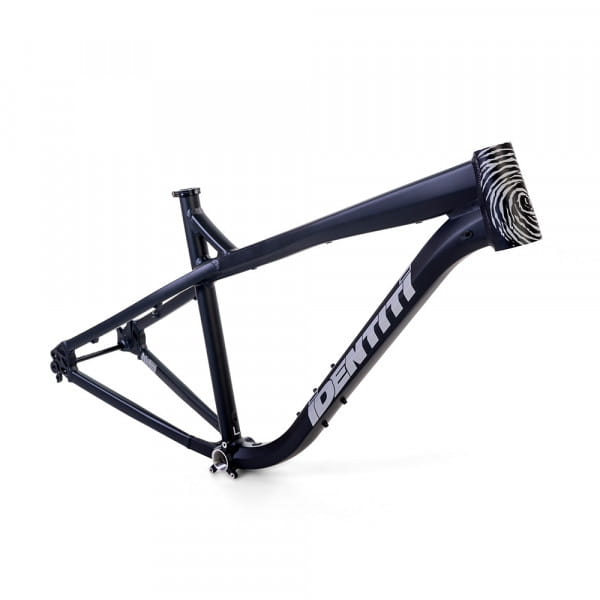 Identiti AKA All-Mountain Hardtail Frame - black
Description
The AKA is a true mountain bike, with familiar geometry inspired by the great Mettle. Take it to the flow trails at your local trail center, go off-piste, or take it to your local BMX track - it will put a smile on your face.
You might think building a hardtail is as easy as picking out some decent geometry, bolting it together and riding off... if only it were that easy. In fact, hardtails get steeper the steeper they get, so we've put together a package that meets all the requirements you could ask for in a hardtail. A slack head angle, comfortable seat tube angle and low bottom bracket keep you right in the middle of the action. The AKA is the result of years of experience in the development, optimization and adjustment of the design until we were satisfied.
Mount a set of 27.5″ wheels with a 140mm fork or a pair of 29″ wheels with a 120mm fork. The same frame can handle both without compromise, offering unlimited potential. With up to 2.6″ of tire clearance and multiple water bottle mounts, plus an adjustable dropout for singlespeed operation...
Three bottle cage mounts in the front triangle for adjustable bottle placement or extra storage on longer adventures, and a bottle cage mount under the down tube.
Material: 6000 Series aluminum
max. tire width: 2.6"
Installation width: 12 x 148 mm Boost
ISCG05 mount
Specially designed ADS slide dropouts with built-in hidden tensioner for singlespeed use
Headtube: ZS44 / ZS56
Inner bearing housing: 73 mm BSA
Saddle post diameter: 30.9 mm
Property
| Property | Value |
| --- | --- |
| Color | Black |
| Wheel size | 27.5 inch, 29 inch |
| Fastening | ISCG 05 |
| Brake mount | IS 2000 - International Standard |
| Tax rate type top | ZS44 (1 1/8 inch ZeroStack) |
| Rear installation standard | 12 x 148 mm TA |
| Housing standard | BSA 73 mm |
| Tax rate type below | ZS56 (1.5 ZeroStack) |
Personal recommendation