Santa Cruz Hightower 3 C GX AXS Kit Mat Evergreen
Description
The latest version of the Hightower remains our biggest hit - versatile, off-road and technically even better tuned. The Hightower is an all-rounder with big wheels, the right amount of travel, balanced geometry, versatile features and proven durability. If you're not looking for extremes, but just something extremely good, the Hightower is the elevator you've been waiting for.


THE BIGGEST HITS
There's nothing out of the ordinary here. The Hightower combines our latest technological highlights with the distinctive design and proven engineering and quality of Santa Cruz Bikes.
LOWER-LINK
In the engineered lower-link (A) sits a flip chip (B) for geometry adjustment and robust axles (C) that virtually eliminate lateral flex.
UPPER-LINK
We use high quality and sealed Enduro MAX ball bearings (A) and premium bolts (B) in our bell cranks. This makes them easy to maintain. And we offer free replacement bearings for the life of your bike.
ONE-PART BACK ASSEMBLY
The VPP system features a one-piece rear triangle with no pivot points on the stays, providing an indestructibly stiff frame for precise control and superior performance.
C AND CC CARBON
Santa Cruz offers two carbon qualities - the absolutely high-quality CC Carbon and the slightly more price-conscious C Carbon. The CC frame, which we offer in our top models and as a frame kit, is thereby slightly lighter, but identically stiff and stable as the C frame.
CARBON COMPETENCE
The shock window (A), glovebox (B) and internal cable channels (not shown) illustrate Santa Cruz's carbon expertise. We combine function and performance with carbon design and manufacturing engineering.
The sum of the parts
On their own, all of these things are great! Combined with perfectly tuned suspensions, top-notch quality and workmanship, and meticulous attention to detail, they become outstanding.
VPP™
The VPP™ system can be optimized for each bike to always achieve the right balance between drive efficiency and rear end performance. This means that if it says "VPP™", you can be sure that the rear triangle has been optimized for exactly the purpose for which the bike is built.
Sovereign in the mid-travel range
.
145mm of travel at the rear and 150mm at the front. There are descents that can handle more travel, but if the climb is as important to you as the descent and you're revving up on your home trails, then the Hightower is the perfect bike.
Responsive rear end performance
.
Compared to the last Hightower, we have significantly lowered the anti-squat value in the first 40% of the suspension travel. This noticeably improves the response of the rear end both in the climb and in the descent, due to the decoupling of the drive.
Fine suspension feel
.
The characteristic curve of the rear end is relatively gradlining. And develops a slight progression towards the end of the suspension travel. This improves performance on hard hits and provides consistent support.
Glovebox
Pack everything you need under the solid flap in your down tube. Including your fine gloves. The bike comes standard with "Tool Wallet" and "Tube Purse", two quality finished pockets that keep your things safe and handy.
C and CC full carbon frames
.
Our CC carbon frames use the best materials and latest manufacturing processes. They have the same stiffness and stability as our C frames, while still being lighter. CC frames we use on our top models. Both versions are made in our own factory and come with our famous lifetime warranty.
Window to SAG
.
A small window makes it easy to adjust the suspension. Other nice touches include a mudguard that protects the shock from dirt, a neat cable routing in the frame, and a rubberized downtube guard.
Flip Chip
In the Low setting, the rear end becomes slightly more progressive, especially at the end of the stroke for more support before bottom-out. In the High setting, the bike stands a little higher and offers the driver more support in the mid-travel range. All tinkerers and sensitive shredders can thus adjust the suspension to their riding style and preference.
Size-dependent geometry
.
The chainstay length and seat angle are matched to the frame size, so every rider, regardless of height, gets the same balanced geometry.
29" wheels
.
The lower rolling resistance and confidence of 29" wheels builds confidence and helps riders make up ground efficiently
Lifetime warranty and support
.
It sucks to miss a ride because your bike is broken. That's why we try to build the best and most stable bikes. And if there is ever a problem, we support you with our Rider Support, so you can quickly get back on the trails.



Features:

Suspension fork: Fox 23 36 F150 29 Performance Elite (ND)
Damper: RockShox 23 SDS+ Htwr3 210x55
Switching: SRAM GX AXS Eagle 1x12s RD
Shift lever: SRAM GX AXS Rocker Paddle Shifter Disc
Crank: SRAM GX Eagle DUB 170mm 32t
Cassette: SRAM CS XG 1275 EAGLE 10-50T
Chain: SRAM GX Eagle Chain PL 118 Links 12s
Brake front: SRAM Code RS DFB L/F DIR 850 Metal
Brake rear: SRAM Code RS SJ DFB R/R DIR 1650/1550/1550/1450 Metal
Brake disc front: Avid Centerline Rotor 180mm
Brake disc rear: Avid Centerline Rotor 180mm
Headset: Cane Creek 40 IS Tapered Headset (38)
Handlebar: SCB 21 35x800 Bar 35/35/35/20mm Rise
Bracket: Burgtec Enduro Stem 35x42mm
Grips: SCB OE House 32/32/32/30/30mm Grip BLK
Front hub: i9 1/1 110 Front 6B 28h
Rear hub: i9 1/1 148 XD Rear 6B 28h
Front rim: Race Face 19 ARC Offset 30 29" Rim 28H GRY
Rear rim: Race Face 19 ARC Offset 30 29" Rim 28H GRY
Spokes: Sapim Race w/ Loc Spokes BLK
Tires front: Maxxis Minion DHR II 29x2.4 3C MG EXO TR YLW
Rear Tires: Maxxis Minion DHR II 29x2.4 3C EXO TR YLW
Seatpost: RockShox 20 Reverb Stealth 31.6 1x MMX 200/200/175/150/125mm
Saddle: WTB SIlverado CroMo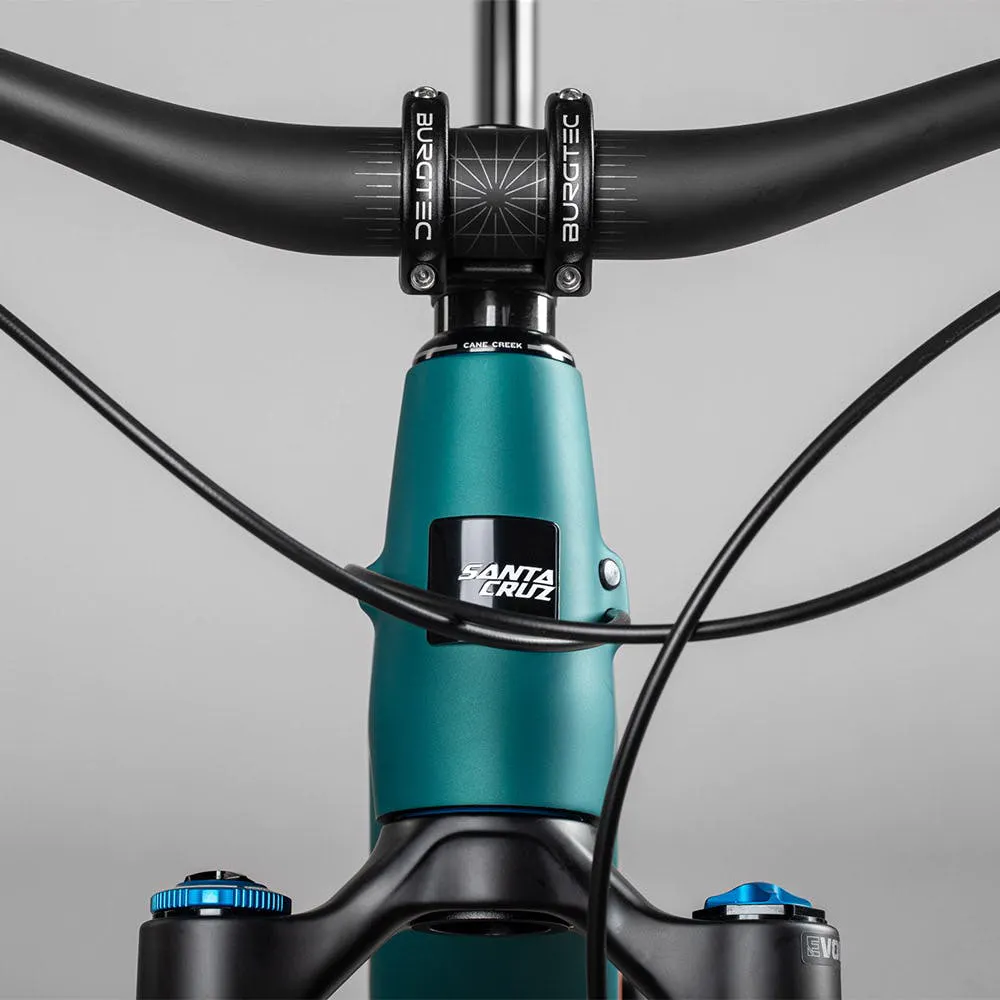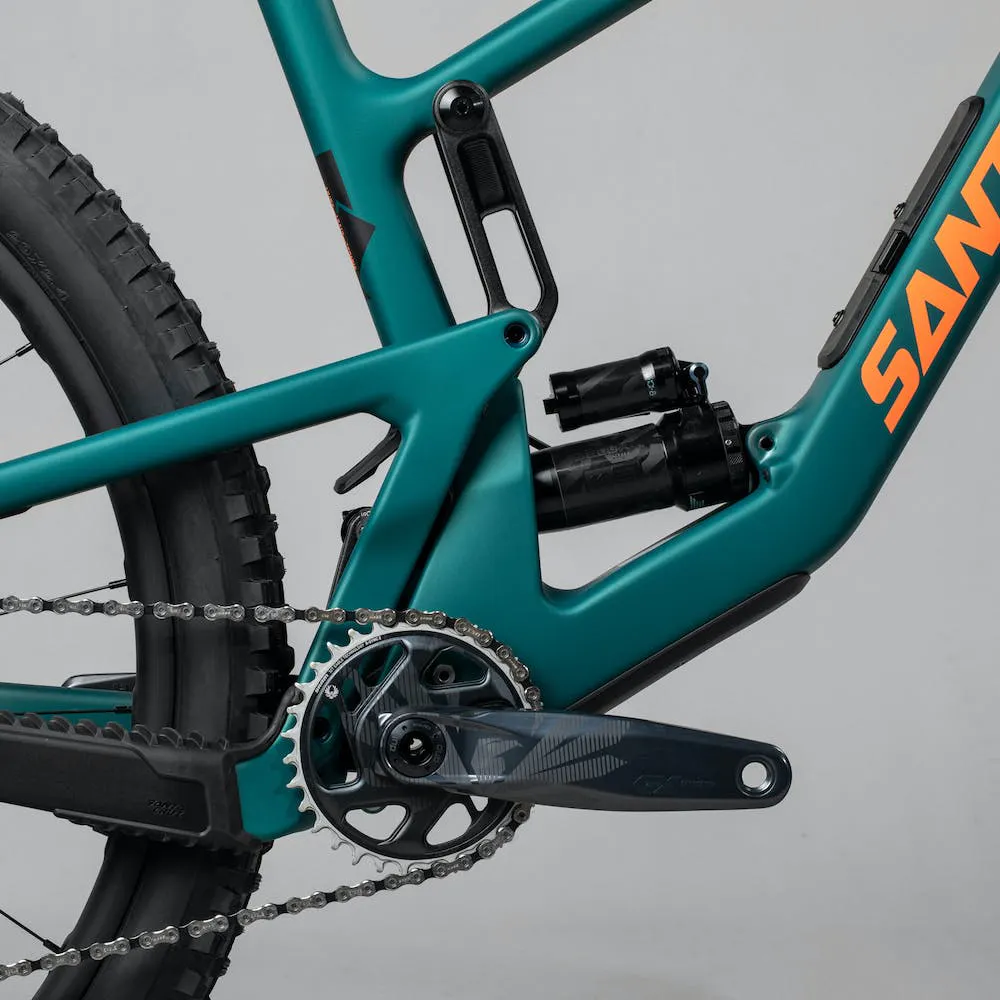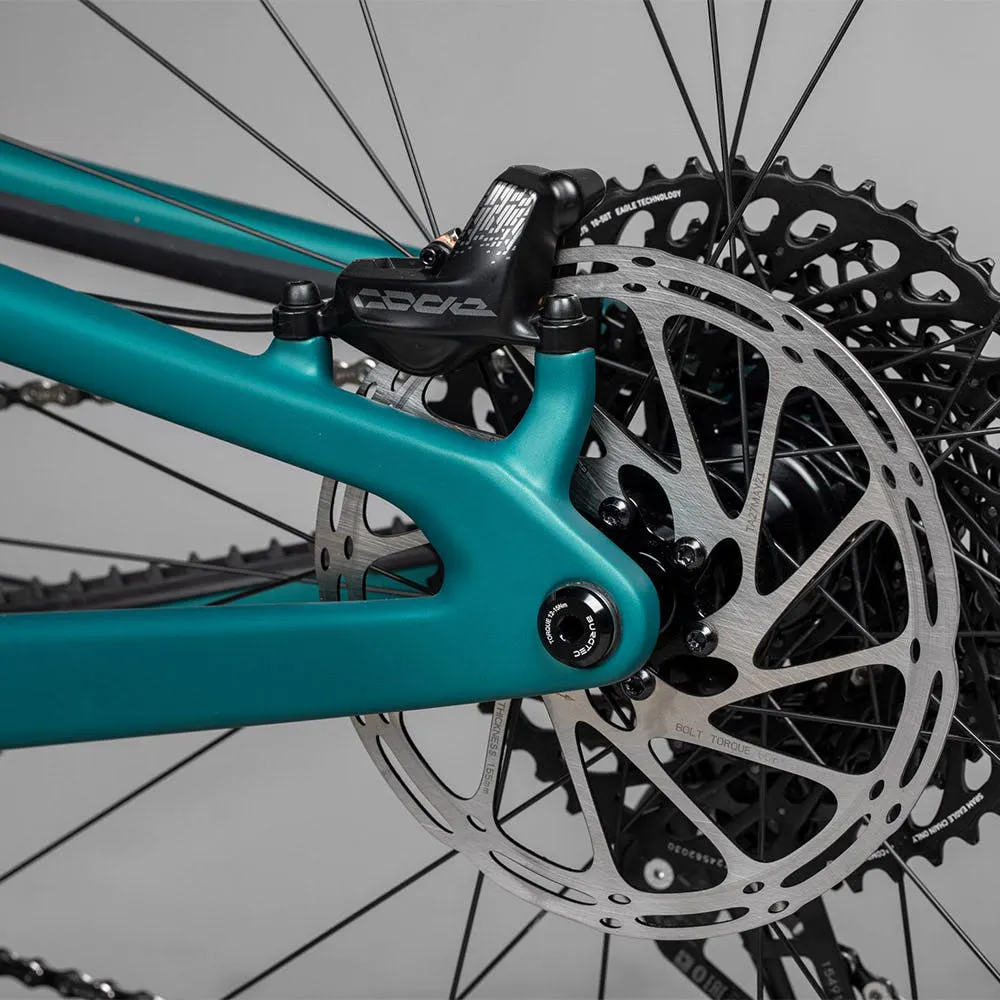 * Specification may deviate in details in exceptional cases, due to manufacturer.
Property
| Property | Value |
| --- | --- |
| Age group | adult |
| Frame Suspension travel | 145 mm |
| Hub | 125 mm, 150 mm, 175 mm, 200 mm |
| Circuit type | Derailleur |
| Brake system | Disc brake |
| Color | Blue, Turquoise |
| Number of gears | 12 |
| Material | Carbon |
| Wheel size | 29 inch |
| Fork travel | 150 mm |
| Gender | unisex |
Personal recommendation