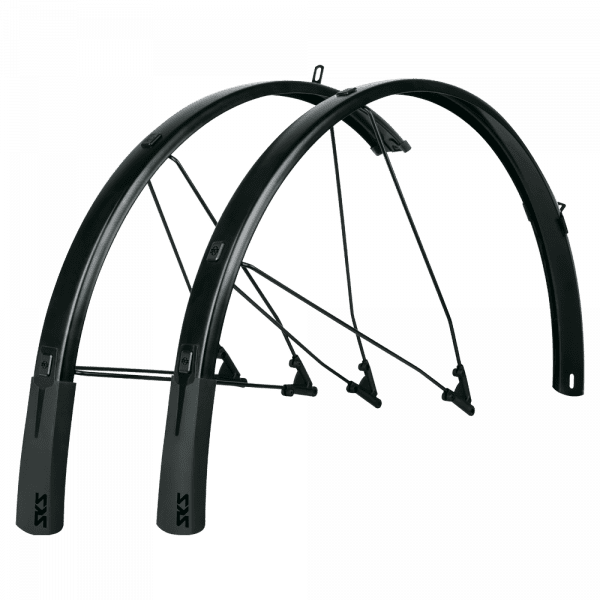 SKS Bluemels Style 28 inch 65 mm - Black
Description
STrong cleaners for the bike
.
Mudguard set with flexible spoiler
It doesn't get any longer than this: the BLUEMELS STYLE mudguard set with flexible spoiler offers excellent all-round protection against splashing water. Thanks to the flexible sandwich construction, in which high-fine aluminum strips are embedded in a plastic coating, the wheel protection is extremely robust, bend-resistant and corrosion-protected.
.
New V-adapter with ESC safety system
.
With its black matte finish and black mounting components, the BLUEMELS STYLE also leaves nothing to be desired in terms of appearance. The newly developed V-adapter with ESC safety system ensures decoupling of the double U-struts when branches get between the spokes, so that the wheel does not lock. Incl. accessories and struts.
Profile width: 65 mm
.
Max. Tire width: 57 mm
Length front wheel guard: 960 mm
.
Rear wheel guard length: 1,300 mm
Material: plastic
V-adapter with ESC safety system
.
Fixing materials in elegant black
Property
| Property | Value |
| --- | --- |
| Color | Black |
| Variant | Set |
| Material Feed | Plastic |
Persönliche Empfehlung