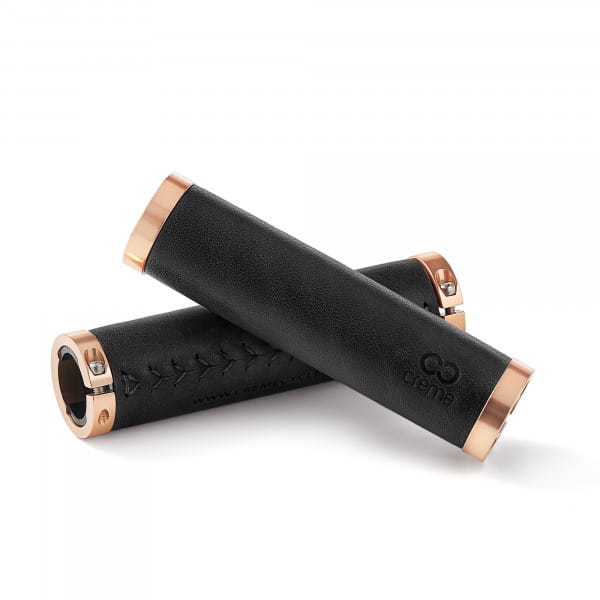 Creme Cycles Handy Grips Standard Leather Grips - black
Description
The Creme grips are made of genuine leather and are 100% handmade in one of the best leather factories in Poland. The Handy Grips are compact grips made of genuine leather with aluminum body and "rose gold" screw clamp including handlebar end caps.
Colors: black, brown, honey
Materials: genuine leather (grip area), aluminum (lock-on clamps)
Length: 130 mm / 130 mm
Weight: 170 g
Property
| Property | Value |
| --- | --- |
| Color | Black |
| Wide | 130 mm |
Persönliche Empfehlung
Evaluations
"sehr schick! allerdings eher was für grosse Hände (für mich völlig ok!). könnten etwas rauher sein, daher nur bedingt MTB-tauglich."
"Tolle Optik"
Eine echte Alternative zu den teuren Engländern. Lassen sich gut montieren, gut verarbeitet.
"Gute Verarbeitung, aber ein bisschen kürzer wäre gut."
Ich habe die Griffe an mein Hollandrad montiert. Sie sehen vom Stil her sehr gut aus und die Verarbeitung weißt nach 2 Wochen Gebrauch keine Mängel auf. Die Griffe sind aber leider etwas zu lang. Sie reichen bis in den Bogen des Lenkers, sodass sich der innen liegende Ring verzieht, und sich vom Leder abspreizt. Die Kanten sind nun nicht mehr parallel. Es hält noch gut, sieht aber beim hinschauen nicht so toll aus. Und ich weiß nicht, wie lange es halten wird.