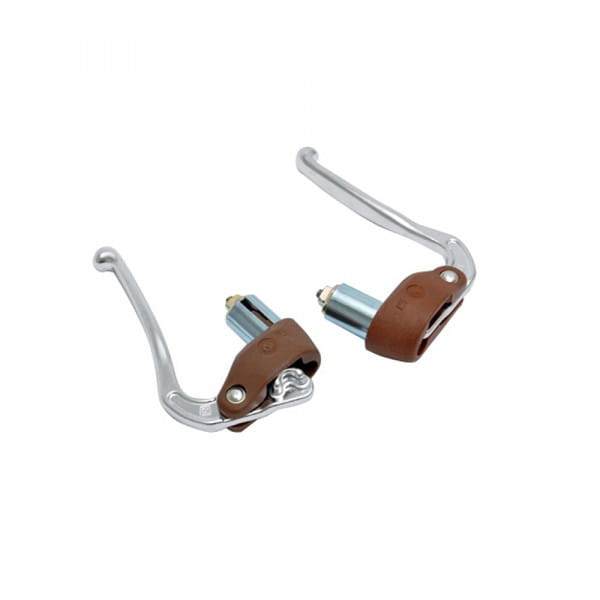 Dia-Compe DC 188 Brake lever for handlebar end - brown
Description
The DC188 from Dia Compe come with massive retro touches!
The brake levers are designed so that the cable end sits on the outside, and the cable guide can run under the handlebar tape, resting against the handlebars.
Diameter 18 mm
Clamp dimension: min. 20,5mm handlebar inner diameter
Color: black, brown
Brake cable: normal cable with circular end
Weight: 140 g
Delivery in a pair
Property
| Property | Value |
| --- | --- |
| Material | Aluminium |
| Mounting page | Set |
| Translation | U-Brake / Cantilever / Side Pull / Road Bike |
| Brake medium | Mechanical |
| Color | Brown |
| Weight | 0,14 kg |
| Handlebar clamping dimension | Handlebar End |
Persönliche Empfehlung
Evaluations
"Ok, aber nicht perfekt "
Nicht sehr toll verarbeitet, man benötigt die mtb-bremskabel (nicht die für Rennräder), hebel sind vorne offen, es gibt keine Abdeckung.
"Lieferung kam erfreulicherweise sehr schnell. Produkt ist für den Preis in Ordnung. "
Durch den Hinweis, dass der Durchmesser des Lenkers über 20mm sein müsse, war ich etwas verunsichert. Mein Lenker hat nur 18mm und wäre somit zu eng. Allerdings hatte ich in einem Video gesehen, dass man den äußeren Metallring nicht braucht. Nachdem ich diesen entfernt hatte, passten die Bremshebel einwandfrei. Besonders toll finde ich es, dass man die Kabelzüge komplett unter dem Lenkerband einwickeln kann und alles sauber und aufgeräumt aussieht. Bei meinem Retrobike-Projekt haben solche Bremshebel noch gefehlt, um den Look abzurunden.
"Ganz gut..."
Gute Bremshebel, die Klemmung funktionierte aber nicht sehr gut an meinem Lenker. Nach langem Ausprobieren und voll angezogenen Schrauben leider immer noch etwas locker und rel. leicht verschiebbar...Aus der Nähe sieht das braune Plastik etwas billig aus, na ja, ist ja auch ein günstiger Hebel...Alles in Allem bin ich zufrieden für den Preis.