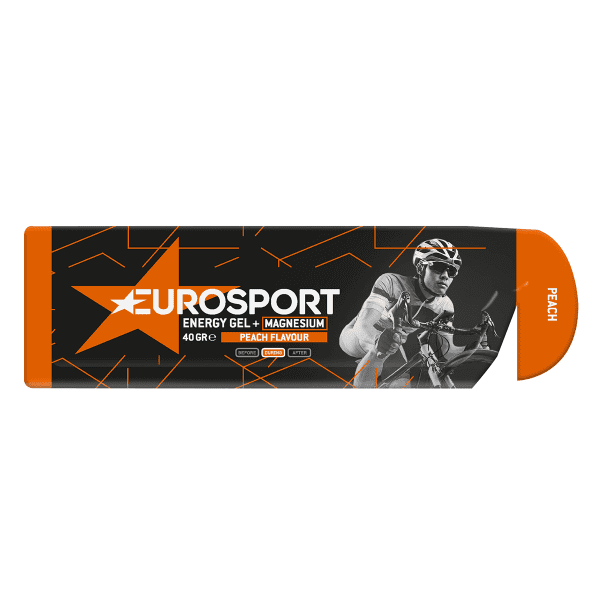 Eurosport Nutrition Energy gel + magnesium with peach flavour
Description
The Energy Gel + Magnesium has the optimal 2:1 glucose-fructose ratio, which can increase the maximum absorption capacity of sugar in the body from 60 grams to 80 grams. This significantly increases the energy level of the body! The 2:1 ratio is essential for this. Glucose (dextrose) is furthermore the most important energy supplier in the human body.
The Energy Gel + Magnesium contains magnesium or magnesium citrate, a magnesium compound that can be best absorbed and processed by the body. The Energy Gel + Magnesium has a medium to long term effect on physical performance and ensures endurance, good muscle function.
Eurosport Nutrition has deliberately chosen to use a concentrated gel, making the consistency slightly thicker than many similar gels that have water added to them. By doing this, Eurosport Nutrition gets athletes to hold the gel in their mouths longer, allowing the sugar to be absorbed directly through the saliva and mucous membranes of the mouth. This process is very important and once again increases athletic performance!
Health comes first at Eurosport Nutrition. That's why Energy Gel + Caffeine is made from all-natural ingredients. The main difference between Eurosport Nutrition and many other brands is that you don't use artificial sweeteners in your products, only natural ones with stevia. Eurosport Nutrition is prepared with fresh ingredients and also fresh fruits.
Content: 40 g
Delivers 26 g of carbohydrates per gel pack
Property
| Property | Value |
| --- | --- |
| Weight | 0.045 kg |
Persönliche Empfehlung