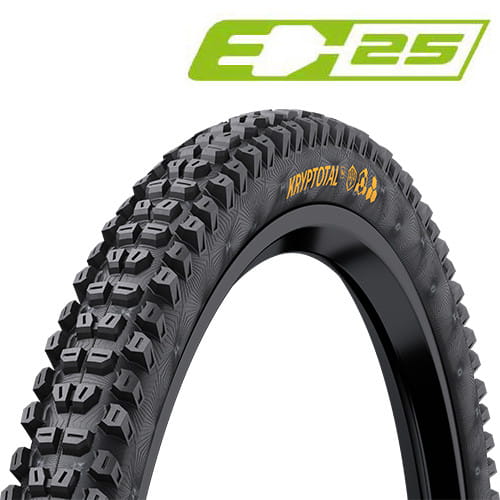 Continental Kryptotal-R Trail TL-Ready E-25 Falt Endurance black / black skin - 65-584
Description
Specialist for mixed terrain and conditions
.
The tread design was developed specifically for rear wheels and promises the best performance in rear wheel specific requirements for braking, traction and directional stability.
The balance of positive tread and open areas allows the best performance in complex terrain. Advantage: perfectly balanced between grip, self-cleaning, adaptability and running characteristics.
The combination of steep and shallow slopes is ideal for use in mixed and loose terrain. For a balance between harmonious, easy running and power transmission.
.
3/180 tpi trail casing for high resistance and puncture protection
.
Tire compound with BlackChili
Tubeless Ready capable - optimized foot area for reliable sealing
.
Foldable aramid core
Cross weave prevents cuts and slashing
.
Endurance compound
Focus on durability with good performance. Compound with balanced grip, durability and rolling characteristics.
The Endurance compound offers high durability combined with good rolling resistance and grip. This compound is suitable for trail bikes or due to the low wear also for e-bikes.
.
Size: ETRTO 65-584 (27.5 x 2.60")
Type: Folding tire
.
Compound: Endurance / Black Chili
Color: Black
Weight: 1100 g
Pressure: 2.0 - 3.0 bar
TPI: 3/180
TL Ready: yes
Property
| Property | Value |
| --- | --- |
| Color | Black |
| Model year | 2022 |
| Tyre size | 27.5 inch - ETRTO 584 mm |
| Tyre width | 2.6 inch |
| Weight | 1,1 kg |
| Material Feed | Aramid, Rubber |
Persönliche Empfehlung