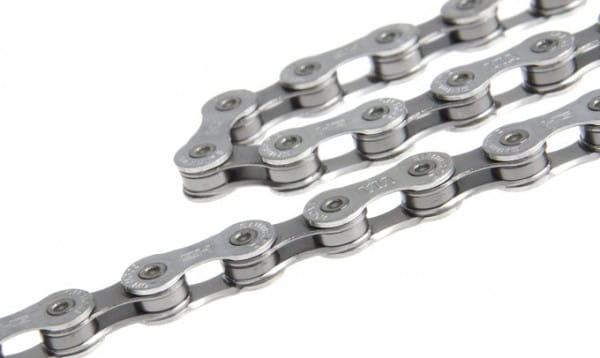 Shimano CN-HG93 9-speed chain
Description
The chain transmits the power from the chainring to the sprocket of the rear wheel hub. It is exposed to extreme loads and weather conditions. Chains elongate at different rates depending on the conditions of use, but each one needs to be replaced sooner or later. Timely replacement of the chain is the only way to protect chainrings and sprockets from excessive wear. To get the best possible functional performance from the Shimano HyperDrive system, it is important to run genuine Shimano HG chains.
Improved wear resistance due to chromium plating of the pins
Corrosion resistant coating for longer durability
Group: DEORE XT
Type: HG
Rear derailleur speeds: 9-speed
SIL-TEC Coating: No
Range of use: MTB/road/e-bike
Running directional: No
Weight: Approx. 304 g (116 links)
Property
| Property | Value |
| --- | --- |
| Color | Silver |
| Chain width | 9-fold |
Persönliche Empfehlung
Evaluations
"Beste Kette zum super Preis"
Sehr gute Kette zu einem unschlagbarem Preis !!!
"Bestellung Kette 9 fach"
Wie immer Top..!!!

"Einfache Handhabung"
Leichte Montage durch Kettenschloss, gute Verarbeitungsqualität, schnelle Lieferung
"Super!"
Ich hatte die falsche Postleitzahl angegeben. Dank unkomplizierter Hilfe vom Shop konnte das "repariert" werden.
"Top Kette aufjedenfall weiter zu empfehlen "
Ketten sind gut geschmiert
Läuft gut ist leicht gängig
"guter Preis, schnelle Lieferung"
guter Preis, schnelle Lieferung................................................................................
"1A!"
Exzellent - unschlagbares Preis-Leistungs-Verhältnis, noch dazu OHNE Kettenschloss ;0)
"gute Standardkette"
Die Kette bietet bewährte Qualität zum günstigen Preis.
"Alles Bestens! Schnell und Preiswer"
"tut was sie soll"
nicht gerade leicht, aber tut was sie soll und hält lang.
"Shimano Kette in bester Qualität"
Für den Preis sehr angemessen. Kann problemlos mit einem Kettennieter eingebaut werden.
"Empfehlenswert"
Gute Kette, einfache Montage, niedriger Verschleiß.
"Fahre diese Kette schon seit Jahren. War immer sehr zufrieden. "
Nutzungsbedingter Verschleiß absolut in Ordnung.
Ich wechsel die Kette im Schnitt alle 2000 km nach harten MTB-Einsatz .
"Gut & zuverlässig"
Läuft gut, rostet nicht, alles prima. Zusammen mit einer Stahlkassette hat man erstmal 1-2 Jahre Ruhe.
"Preis / Leistung ist eine Tolle Sache"
"Preis-/Leistung Top"
Wenn man sehr viel fährt sollte man vllt. eine holen/kaufen die etwas mehr Km aushält. Aber für das 2 Rad reicht sie vollkommen aus.
"Beste 9 Fach Kette fürs Geld."
Tolle Kette für 9 Fach oder Nabenschaltung. Wie immer, schnell von BMO zur Verfügung gestellt!
"Preis-/Leistungsverhältnis unübertroffen"
Eine sehr langlebige Kette, die bei mir sowohl auf meinem Rennrad (9-fach Dura-Ace) als auch auf einem E-Bike (9-fach Capreo; Flyer i:sy) gefahren wird.