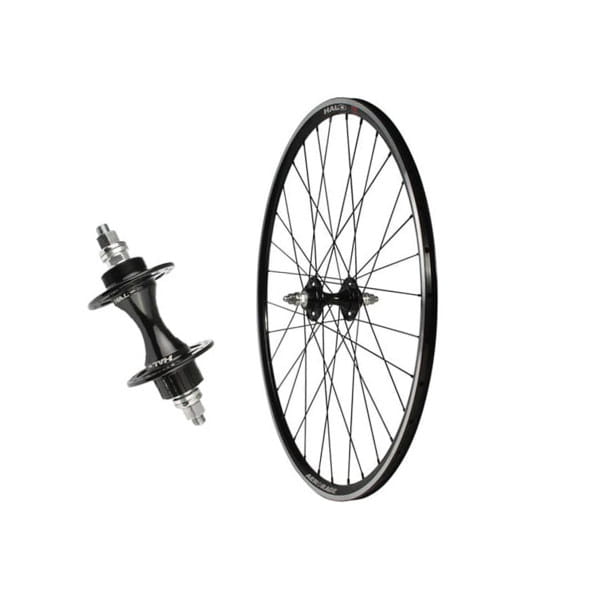 Halo Aerorage Fix-G track 28 inch rear wheel - HG-fixed/free - hub black - rim black
Description
The Halo Aerorage Mid size Aero Road rim. Lightweight and strong! Fixed Gear Eqipment is developed and designed for the stresses of track cycling.
The use as a brake (skidding) in road traffic is not permitted. Damage and consequential damage resulting from use in road traffic are your own responsibility and are not subject to the legal warranty.
A common problem with the brake is that it is not designed for use in road traffic.
A common problem with conventional fixed hubs is the mounting of the drive pinion on a thread that is loaded by the pedal force in both directions. Of course, loosening of the pinion is prevented by a lockring, which is screwed tightly onto a left-hand thread in front of the drive pinion. But many riders have found that this old system is relatively unpredictable. Especially a frequent change of the sprocket is rather inconvenient. Halo looked for a better solution and found it: A slotted cassette body on which the sprockets are put and in addition an independent lockring- which never has to absorb the rotational forces of the drive. The Halo Fix-G hub has this receptacle, which is a fixed part of the alloy hub body and has a conventional internal thread for a standard HG lockring. On the other side of the hub, a conventional freewheel thread.
For the HG-Fixed side, please only use sprockets with a wide mount, as narrow base sprockets would eat into the alloy body.
Features hub:
Easy and secure sprocket mounting
Adjustable chainline
Option to mount two sprockets
Accepts HG sprockets from 12 teeth
No chain whip required for disassembly
Polished Cnc machined hub body
Japanese industrial bearings
hollow M10 Cr-Mo axle
120 mm installation width
22 mm cone outsides to prevent frame damage
Comes incl sprocket spacers and alloy lockring
Features Rim:
19 mm wide
25 mm aero profile
CNC machined brake flank
Strong box section double wall. T-10 heat treated aluminum
Weight: 455 g
Color: black or white
Number of holes: 32 hole
Property
| Property | Value |
| --- | --- |
| Color | Black |
| Number of holes | 32 |
| Installation standard | 10 x 120 mm (HR) |
| Material Feed | Aluminum |
Persönliche Empfehlung