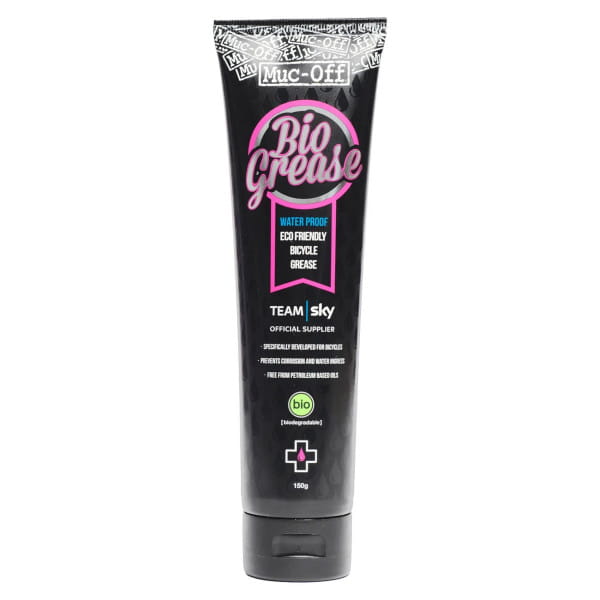 Muc Off Bio Grease All Purpose Grease
Description
Muc Off's new Bio Grease is even smearier and reduces even more friction, so every ride feels smoother. The Bio Grease is 100% water repellent, so you are guaranteed performance over even the longest space.
Water resistant even when pressure washed, prevents corrosion
Reduces friction and enhances performance of moving parts
Safe to use with carbon frames and parts
100% Biodegradable and Petroleum Free
Content: 150 g
Downloads
Property
| Property | Value |
| --- | --- |
| Filling quantity | 150 g |
Persönliche Empfehlung
Evaluations
"Super Zeug"
Schmiert gut, glitzert ein bisschen und riecht extrem gut, würde es fast essen xD
"erfüllt seinen zweck voll und ganz"
Läst sich gut dosieren und entnehmen und macht genau das was es soll.
"Sehr zufrieden"
Super dosierbar, richt gut und erfüllt seinen zweck.
"Saubere Aufberwahrung"
Das Fett scheint sehr gut zu sein und die Aufbewahrung ist sauber, mann kanns prima entnehmen.
Vorsichtig: Riecht nach Kaugummi, aus der Nähe von Kindern fernhalten
"Gut zu dosieren, riecht lecker"
Das Fett lässt sich gut verschmieren und klebt nicht irgendwie seltsam an den Fingern. Habe es bis jetzt an zwei Fahrrädern ausprobiert und bin zufrieden.

Das Einzige, was auf mich etwas befremdlich wirkt ist der Geruch, es riecht nämlich nach Erdbeere:)