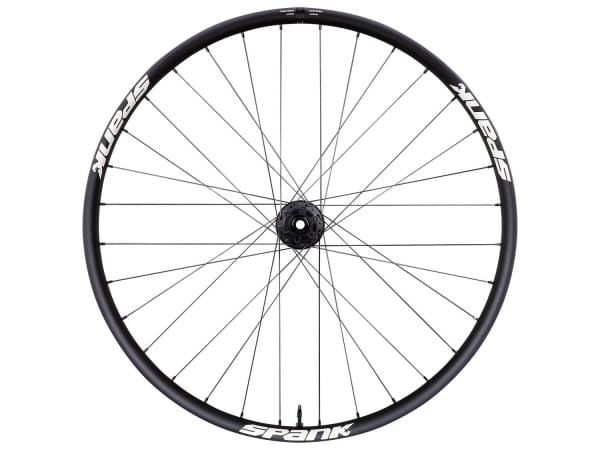 Spank Oozy Trail 395+ Boost MS rear wheel 29 inch 32-hole 148 mm - black
Description
The Spank OOZY Trail 395+ wheels are designed for aggressive MTB trail riding and offer a durable and reliable component for mountain bikes.

The Spank Oozy 395+ rear wheel is designed for high performance. It features a rugged aluminum rim construction, designed for high load and speed on trails. The Shotpeen finish gives the wheels extra stiffness for rough rides and increased durability. In this case, Spank has combined the Ooozy 395+ rim with a Spank Hex J-Type hub.

Features:
Extremely wide rim optimized for trail and all-mountain use
Radial flex for increased traction and comfort
Optimized for plus-sized tires, yet easily compatible with a variety of modern, large-volume tire options
Shotpeen finish increases durability and longevity
Waved rim core provides exceptional strength, making the rim stiffer and allowing the rim to be wider without additional material
Tubeless Ready
BeadBite technology
OohBah™ rim profile
Material: MGR Dynamal Alloy
Tire width: 2.3"-3.0"

Specifications:
Rim diameter: 29"
Spokes: 3-way crossed
Holes: 32, negative offset
Internal width: 35 mm
Outer width: 39.5 mm
Profile height: 22 mm
Hub: Spank HEX J-TYPE BOOST 12 x 148 mm
Freehub: Microspline
Valve bore: Presta
Weight: approx. 1153 g
ERD: 591 mm
ETRTO (mm): 622 x 35

OohBah™
The term OohBah describes Spank's exclusive rim profile that uses special construction to better dissipate the flow of forces that occur, thus avoiding dents. In addition, the wall can be adjusted in various places to design the rim lighter without losing stability.

BeadBite
BeadBite creates an improved seal between the rim bed and tire bead, so that no air can escape, no matter how much the tire moves. It also ensures that the tire bead is firmly anchored to the rim bed and can not slip.
Property
| Property | Value |
| --- | --- |
| Color | Black |
| Impeller size | 29 inch |
| Variant | HR |
| Brake system | Disc brake |
| Number of holes | 32 |
| Rim type | Clincher rim tubeless compatible |
| Disc recording | IS2000 - 6-hole |
| Pinion mount | Micro spline |
| Tubeless ready | Yes |
| Rear installation standard | 12 x 148 mm TA |
| Weight | 1.153 kg |
Personal recommendation