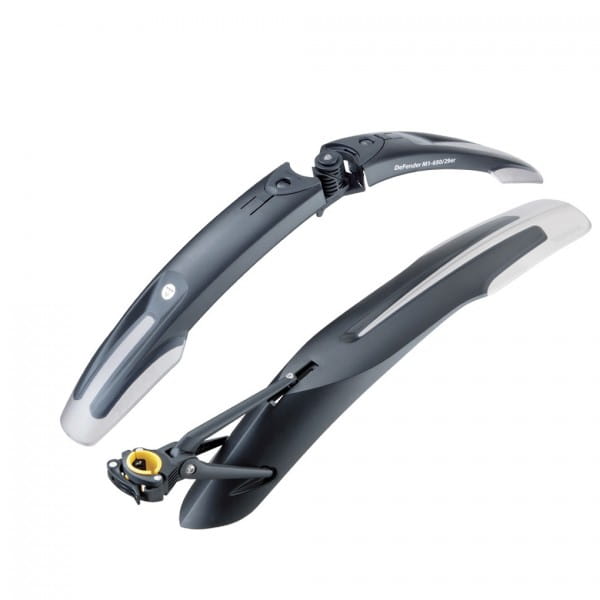 Topeak DeFender M1 & XC11 Set for 27,5''
Description
Compact mountain bike mudguards with quick-release closure for mounting and dismounting in seconds. The closure system (clamping cone) of the front DeFender is compatible with most fork models.
The rear DeFender can be adjusted for a precise fit thanks to the hinge points.The particularly stiff yet lightweight construction offers extra protection against dirt thanks to additional flexible zones. The polished underside offers dirt virtually no chance of adhesion and makes cleaning much easier.
Fastening: quick release for fork
Adjustment: Angle adjustable (XC11 / rear)
Fixing in front: quick release fork mount, fits Ø 19.6 - 26 mm & Ø 27.7 - 35 mm head tubes
Rear mounting: quick release bracket for the seat post, suitable for Ø 25.4 - 34.9 mm seat posts
Material: two-tone, high-impact fiberglass composite
Dimensions: L x W x H 65 x 7 x 14.5 cm (M1) (27.5" & 29") 60 x 10.5 x 11 cm (XC11) (27.5")
Weight: 208 g (M1) (27.5" & 29") 215 g (XC11) (27.5")
Property
| Property | Value |
| --- | --- |
| Color | Black |
Persönliche Empfehlung
Evaluations
"Lieferung und Artikel i.O., Montage trotz leichter Fummelei einfach. gute Verarbeitung. Bin sehr zufrieden. Der Unterschied zwischen diesem Produkt für 29er oder 27,5er besteht lediglich in der Länge der Schutzbleche. Mein Freund hat die selben und ist au"