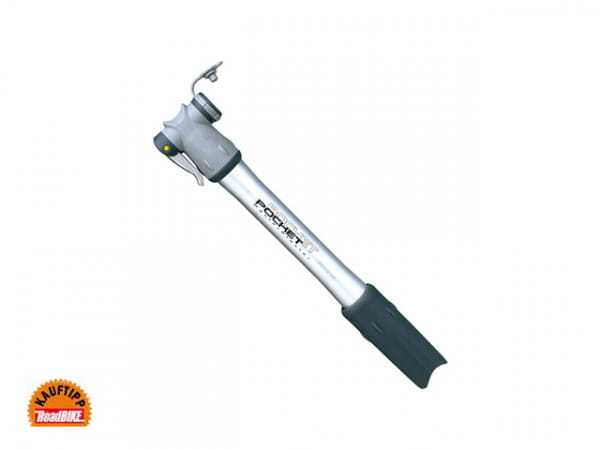 Topeak Pocket Rocket MasterBlaster Mini Pump
Description
The best-selling Topeak mini pump. Sensational quality. Ultralight construction. Delivers true 11 bar pumping performance.
With frame holder
Head: Presta/Schrader/Dunlop
Pressure: 11 bar / 160 PSI
Cylinder: CNC machined aluminum
Grip: Plastic
Length: 22.2 cm
Weight: 115 g
Property
| Property | Value |
| --- | --- |
| Color | Black, Silver |
| Material | Aluminium |
| Weight | 0,115 kg |
Persönliche Empfehlung
Evaluations
"Zusatzversicherung"
Nachdem mir trotz Schwalbe Durano DD Bereifung im letzten Winter ein Schlagloch zum Verhängnis wurde und meine Frau mich aus dem tiefsten Odenwald abholen musste, habe ich mich entschieden, künftig doch noch ein anderes Notfallkonzept in petto zu haben. Die Pumpe kam mir da gerade recht. Zusammen mit Pannenspray, Ersatzschlauch, Reifenheber und Flickzeug kann ich künftig wohl hoffentlich auf den Pick Up Service meiner Frau verzichten, zumal sie mit der Bedienung des Navigationssystems im Auto etwas auf Kriegsfuß steht und es das letze Mal ziemlich lange dauerte, bis sie mich gefunden hat. Die Pumpe konnte dezent neben dem Flaschenhalter an den gleichen Schrauben befestigt werden und fällt wegen ihrer kompakten Ausmaße fast überhaupt nicht auf. Und Druck aufbauen kann man mit dieser Pumpe recht ordentlich, für die Heimfahrt reicht's allemal.
"Klein aber oho"
Habe die Pumpe kürzlich gekauft und funktioniert bisher sehr gut und ideal als Wegbegleiter beim Biken, habe sie immer im Rucksack.
"Klein leicht und praktisch"
Habe auch hier mal zum Spaß ein paar reifen aufgepumpt. Funktioniert, soweit ganz gut. Notfallwerkzeug, daher kann es nur ein Kompromiss sein.
"Super Qualität"
Klein, leicht, extrem stark, reversibler Ventileinsatz für Schrader-, Presta- und Dunlopventile. Daumenspannhebel, Schmutzkappe. Nur 22 cm lang."
"Kleine Power Pumpe"
Meine erste kleine Pumpe. Pumpt besser als die lange SKS-Stabkerze.