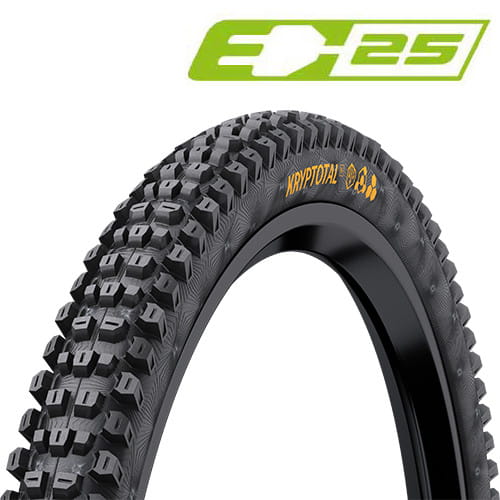 Continental Kryptotal-F Enduro TL-Ready E-25 Falt Soft black / black skin - 60-622
Description
Specialist for mixed terrain and conditions
.
Thanks to their specially designed profiles, KRYPTOTALFr and KRYPTOTALRe offer the best performance in special maneuvers on the front and rear wheel and together form the optimal combination for demanding terrain.
The tread pattern was developed specifically for front wheels. Advantage: best performance in front wheel specific requirements such as track stability, adaptivity and agility. The steep and shallow slopes are ideal for use in mixed and loose terrain.
For a balance between harmonious, easy running and power transmission.
.
3/330 tpi Enduro casing for high resistance and puncture protection
.
Apex for high puncture protection
.
Tire compound with BlackChili
Tubeless Ready capable - optimized foot area for reliable sealing
.
Foldable aramid core
Cross weave prevents cuts and slashing
manufactured in Germany
Soft compound
Balances grip and rolling resistance for downhill-heavy applications.
An option to optimize the running characteristics of your rear wheel on a downhill bike or as an optimal combination for enduro or trail riding.
Size: ETRTO 60-622 (29.0 x 2.40")
Type: Folding tire
Technology: Apex
Compound: Soft / Black Chili
Color: Black
Weight: 1125 g
Pressure: 2.5 - 3.5 bar
TPI: 3/330
TL Ready: yes
Property
| Property | Value |
| --- | --- |
| Color | Black |
| Model year | 2022 |
| Tyre size | 29 inch - ETRTO 622 mm |
| Tyre width | 2.4 inch |
| Weight | 1,125 kg |
Persönliche Empfehlung