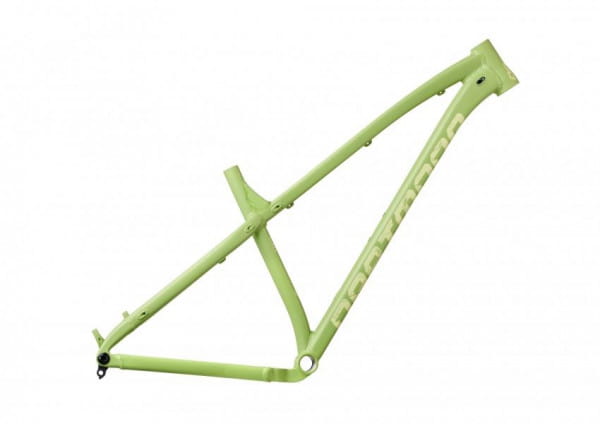 Dartmoor MTB Frame Primal 29" Matt Green Olive
Description
The Dartmoor Primal 29 is next to his "small" sister with 650B the most versatile trail bike in the line up of Dartmoor, although it is a hardtail. The aluminum frame with 29 inch Laufrädern offer in combination with 130 to 160 mm suspension fork the perfect combination für any trail.
The Booststandard with 148 mm ermöglicht it stiff and stable Laufräder to use. The frame is designed with the SRAM Universal Derailleur Hanger (UDH), so you get a new derailleur hanger at any time and überall. The Post Mount brake mount and the bolted bottom bracket are up to date and make it possible to use all modern standards. The brake line is external to the frame, the shift cable is almost continuously routed internally, which guarantees a chic look and at the same time serviceability.
Whether flow trails in the forest, Endurotracks or fast laps on the pump track, the Dartmoor Primal 29 Hardtail is für any kind of mountain biking the right choice.
.
Geometry
.
Reach: 420 (S) 445 (M) 470 (L) 495 (XL)
Stack: 652 (S) 652 (M) 652 (L) 652 (XL)
Saddle tube length: 390 (S) 435 (M) 465 (L) 465 (XL)
Top tube length: 604 (S) 632 (M) 657 (L) 685 (XL)
Saddle tube angle: 72 (S) 72 (M) 72 (L) 72 (XL)
Headtube length: 110 (S) 120 (M) 120 (L) 130 (XL)
Headtube angle: 65 (S) 65 (M) 65 (L) 65 (XL)
Chainstay length: 432 (S) 432 (M) 432 (L) 432 (XL)
Wheelbase: 1165 (S) 1194 (M) 1219 (L) 1248 (XL)
Bottom bracket drop: 62 (S) 62 (M) 62 (L) 62 (XL)
bottom bracket height: 790 (S) 790 (M) 800 (L) 800 (XL)
Technical data
Suspension fork: 130 mm - 160 mm
Headset: tapered IS42/IS52
Inner bearing: BSA/ISO 73 mm
Installation standard: 148 x 12 mm
Sattelstützendurchmesser: 30.9 mm
Sattelstützenklemme: 34.9 mm
max. Chainring size: 34T
max. tire size: 29 x 2.4 inch
Brake mount: PM
max. disc size: 180 mm
Weight: 2.20 kg
Warranty: 2 years
Property
| Property | Value |
| --- | --- |
| Age group | Adults |
| Color | Green |
| Gender | Unisex |
| Material | Aluminium |
| Fork travel | 130 mm, 140 mm, 150 mm, 160 mm |
| Impeller size | 29 inch |
| Model year | 2022 |
| Bike World | Mountain Bike World |
| Tax rate type top | IS42 (1 1/8 in. integr. Ital.) |
| Tax rate type below | IS52 (onepointfive integr.) |
| HR installation standard | 12 x 148 mm TA |
Persönliche Empfehlung