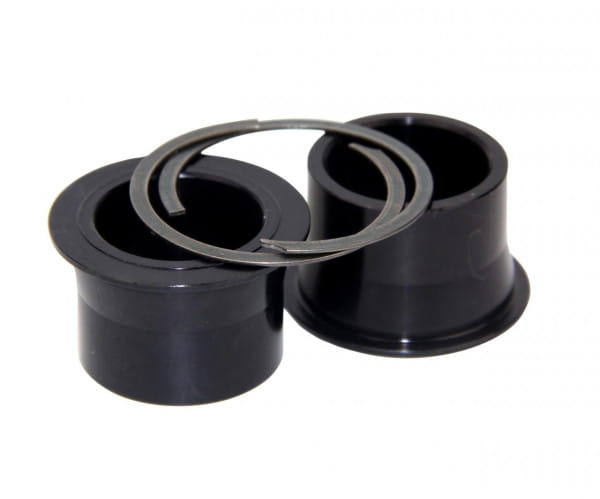 Hope Pro 2 EVO & Pro 4 Conversion Kits
Description
The Pro 2 Evo & Pro 4 Hub Conversion Kits from Hope are for almost every type of rear triangle and fork installation standards. The adapters convert the Hope Pro 2 Evo & Pro 4 hubs to the desired installation standards and thus allow a versatile use of the hubs. Unlike the Pro 2 hub, the Pro 2 Evo hub no longer requires you to swap axles in the rear hub, allowing you to work with end caps only.
Rear hubs with an installation dimension of 12 x 150 mm cannot be converted using conversion kits, as the hub body is wider than on the standard version.
Rear wheel:
10 x 135 mm QR to 12 x 135 mm TA
10 x 135 mm QR to 10 x 135 mm TA
10 x 135 mm QR to 10 x 135 mm Bolt In
10 mm TA, 12 mm TA (10 x 135 mm, 12 x 135 mm or 12 x 142 mm) on 10 x 135 mm QR
10 x 135 mm / 12 x 135 mm QR / TA on X-12 (12 x 142 mm TA)
Front wheel:
Hub on 20 mm thru axle
Hub on 15 mm thru axle
Hub to 9 mm quick release
Hub on 9 mm thru axle (DT RWS)
Property
| Property | Value |
| --- | --- |
| Color | Black, Silver |
Personal recommendation
Evaluations
"Alles bestens"
Schnelle lieferzeit... Genaue ankunftszeit.. Qualitaet ist hope standart einfach bombe... Weiter so... Passr und sitzt un macht was es soll
"Perfekte Lösung! "
Was soll man sagen??? Neue Gabel? Kein Problem! Mal fix den Laufradsatz an ein anderes Fahrrad bauen? Kein Problem! Das Wunschrad gibt's nur mit der falschen Nabe? Auch kein Problem! Immer wieder!
"TOP Qualitaet in Hope Manier"
Ein LRS fuer viele Raeder, mit dem Hope Adapter kein Problem! Super Qualitaet, kann man nichts falsch machen
"Hope-Qualität"
perfekte Passform, werkzeuglose Montage
"Super Kit"
Funktioniert wunderbar - Vorderrad war damit kinderleicht umzubauen.
"Wie erwartet perfekt "
Perfekt wie erwartet was allerdings erwartet wurde aufgrund des Herstellers : )
"Montage unproblematisch"
Stolzer Preis, perfekt verarbeitet, tut was es soll. Die Montage ist werkzeuglos möglich -die Endkappen sind mit einem O-Ring ausgestattet und lassen sich mit der Hand entfernen und einpressen.
"Super Qualität. wie gewohnt."
Wer sich für hope entscheidet,der weiß was er will. Die Adapter sind in gewohnter hope Qualität.
"Top"
suuuper schneller Versand und super Top Artikel
"Evo Umrüstkit auf 12mm Steckachse"
Passt wunderbar, gute Qualität