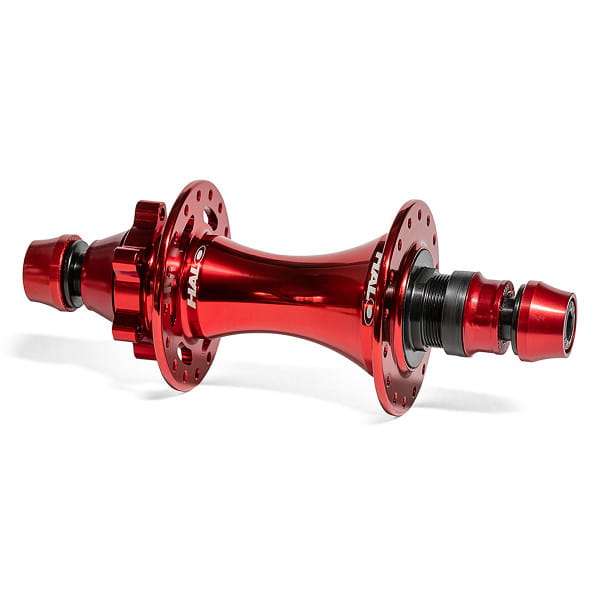 Halo DJD Supa Drive rear hub 135mm - disc - red
Description
If Dirt Jump is your thing, then so is our DJD Supadrive SS hub. After years of testing by our world famous Dirt Jump team, our latest DJ hubs are our best series yet. A tremendous strength to weight ratio sets our DJ series apart from the crowd.
The DJD Supadrive hub offers a 120 tooth instant mesh hub, with the ability to withstand significant torque loads. Supadrive is our most advanced and reliable drive system to date. With multiple world championship titles in various disciplines, the Supadrive system has been tried and tested to the highest level.
The DJD Supadrive hub is built around a bushing-shaped drive that reduces weight and improves durability compared to cartridge bearings, especially when compact sprocket sizes are used.
Wide spoke flanges help the DJD SS hub build an uncompromisingly stiff wheel, while sealed hub main bearings provide durability. At the heart of the hub is a lightweight but strong hollow aluminum axle with a 6mm center hex to remove bolts without spinning.
Heat-treated M10 Cr-Mo steel bolts are included, as are 14mm adapters that allow this hub to be used with 135 x 10/14mm dropouts.
The DJD rear hubs no longer come with a sprocket.
Number of holes: 32, 36
Installation width: 135 mm
Disc mount: 6 hole
M10 bolt-in CroMo fitting
Flange diameter: 58 mm
Distance center to flange: left: 34 mm, right: 35 mm
Bearing: 2 x 6902
Color, red, black
Weight: 326 g
Sprockets available separately with 9, 10, 11, 13, 14 and 16 teeth
Property
| Property | Value |
| --- | --- |
| Color | Red |
| Number of holes | 32, 36 |
| Disc recording | IS2000 - 6-hole |
| Installation standard | 10 x 135 mm (HR) |
Personal recommendation