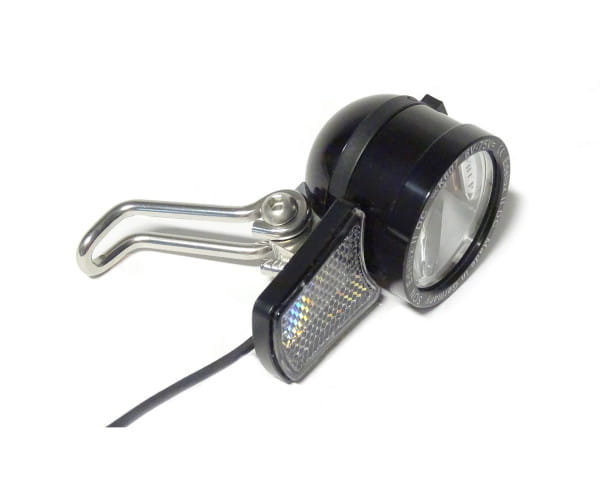 SON Edelux II-DC-for 6 to 75 Volt LED spotlight-black anodized
Description
It is becoming increasingly rare for dynamo lighting systems to be used on pedelecs; instead, the headlight and tail light are supplied with direct current from the drive battery. Dynamo headlights are generally not suitable for DC operation, but rear lights are.
For voltages from 5.5 to 8 volts DC - direct current
Current consumption approx. 600 mA
brightness approx. 80 lux
suitable for drives with 6 V DC output (e.g. Bosch Active and Performance, Shimano Steps)
not suitable for very low current limit (Bosch Classic)
Switching on headlight and taillight is done here on the display of the drive, therefore the Edelux II DC 6 Volt has no switch and taillight output
with coaxial connection cable length 140 cm
Manufacturer's warranty:
We give a 5-year warranty on the function of our hub dynamos, headlights, taillights and wheels from the date of purchase from a specialist dealer.
The warranty does not apply to damage caused by normal wear and tear, improper use or force (such as an accident).
In the event of a warranty claim, we will repair the product at our discretion or replace it with an equivalent product.
We will also carry out the re-spoking of a defective hub dynamo in the event of a warranty claim at our expense.
Further claims are excluded.
Your statutory warranty rights remain unaffected.
To make a claim under the warranty, please contact your specialist dealer.
Property
Personal recommendation