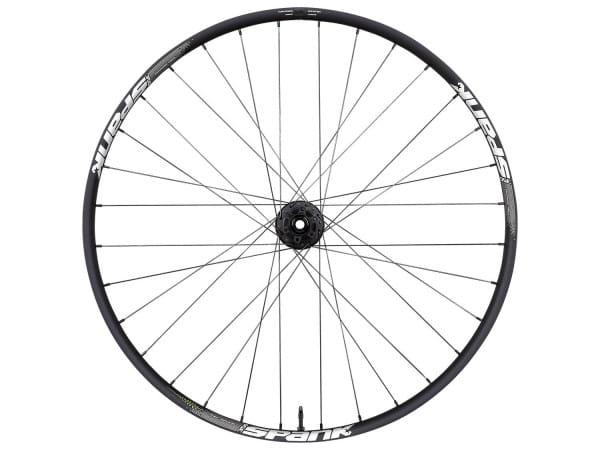 Spank 350 Vibrocore Boost E-XD rear wheel 29 inch 32-hole 148 mm - black
Description
Due to the low rim profile and the wide inner diameter, the Spank 350 wheels have high radial flex, which improves traction and comfort. At the same time, they have a high lateral stiffness and high torsional strength - also thanks to the negative offset spoke holes. The Spank 350 rims were combined in this wheel with high-quality e-bike specific Hex J-Type hubs made of steel
The 350 Vibrocore wheels feature the Vibrocore foam, which on the one hand filters vibrations, but in the wheel is particularly suitable for hard terrain and ensures high robustness. In addition, this extends the life of the wheels.

E-mountain bikes are no longer just a trend in Germany and Austria, but now an integral part of the sport. All the more important are specifically adapted parts that are designed for use with an e-motor and its force influences. Thus, the HEX hubs are now also available with freewheels made of steel.

Main features:
Developed and tested for DH World Cup with internal vibration damping Vibrocore
Weight optimized for racing
Optimized for trail, freeride, all-mountain, enduro and downhill use
Vibrocore™ reduces the transmission of harmful vibration frequencies, improves ride comfort and extends the life of the rim
Radial Compliance rim design for more traction and reduces wheel deflection
30.5mm inner width for tires from 2.0" to 2.6"
Tubeless Ready
Bead Bite Tubeless Hooks
OohBah™ Rim Profile
Material: MGR Dynamal Alloy

Specifications:
Rim diameter: 29"
Spokes: 3-way crossed
Holes: 32, negative offset
Internal width: 30.5 mm
Outer width: 35 mm
Profile height: 19 mm
Hub: Spank HEX J-TYPE BOOST 12 x 148 mm
Free wheel: E-XD (E-Plus)
Valve bore: Presta
Weight: approx. 1254 g
ERD: 602 mm
ETRTO (mm): 622 x 30.5


Technologies of Spank 359 Vibrocore wheels

Vibrocore
Vibrocore™ is a proprietary, biodegradable, complex foam core that reduces vibration. The low-density, pressurized core performs a similar function to soft tissue inside bone, increasing internal wall thickness and absorbing vibration. Furthermore, it increases the torsional strength and durability of the rim, which means long life at a remarkably low weight. Vibrocore allows modern rim designs with thinner wall thicknesses in some cases, without negatively affecting the strength and load capacity.

OohBah™
The term OohBah describes Spank's exclusive rim profile, which through special construction better dissipates the occurring force flows and thus avoids dents. In addition, the wall can be adjusted in various places to design the rim lighter without losing stability.

BeadBite
BeadBite creates an improved seal between the rim bed and tire bead, so that no air can escape, no matter how much the tire moves. It also ensures that the tire bead is firmly anchored to the rim bed and can not slip.
Property
| Property | Value |
| --- | --- |
| Color | Black |
| Wheel size | 29 inch |
| Variant | HR |
| Brake system | Disc brake |
| Number of holes | 32 |
| Rim type | Clincher rim tubeless compatible |
| Disc recording | IS2000 - 6-hole |
| Pinion mount | SRAM XD freewheel |
| Tubeless ready | Yes |
| Rear installation standard | 12 x 148 mm TA |
| Weight | 1.254 kg |
Personal recommendation