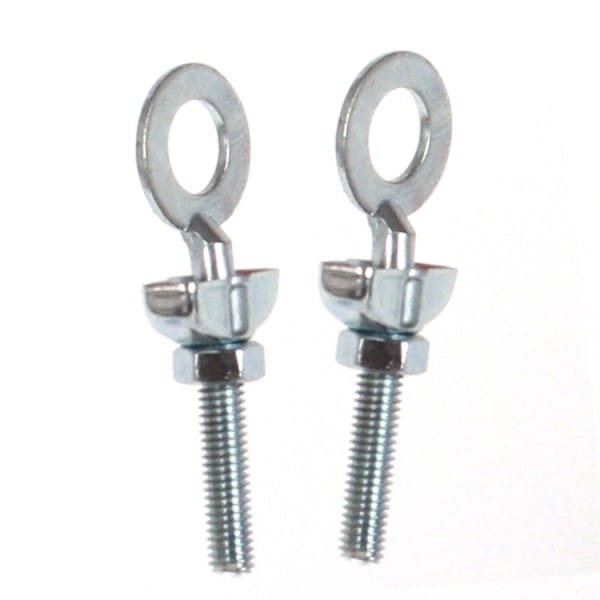 Bike Mailorder Chain tensioner 10mm - pair
Description
These are chain tensioners for singlespeed bikes with horizontal dropouts and an axle diameter of 10 mm.
The thickness of the dropouts must not exceed 5 mm.
Property
| Property | Value |
| --- | --- |
| Color | Silver |
Persönliche Empfehlung
Evaluations
"Günstig und tun was sie sollen"
Die Kettenspanner halten das Rad zumindest nach 2 Tagen und teilweise kräftigen Tritten da wo es sein soll, wobei ich ein Anflug von Verschieben des HInterads bemerkt haben will, kann aber auch Einbildung sein. 2 Manko: Der Haltering für die Achse ist schmal, d.h. er könnte sich evtl ins Achsgewinde fressen und die Kontermuttern könnten eine Gummiring vertragen, der die Muttern vorm Ablösen sichert.
"Sehr zufrieden"
Wurden mit meinem Token Tretlager geliefert. Diese Kettenspanner sind ideal bei meinen Leader 725 Singlespeed.
"günstige Alternative"
Günstige Alternative und sie hält, auch wenn sie nicht 100%ig sitzt...
"Erfüllt seinen Zweck"
Nach dem Zurechtsägen und -feilen war das Kettenspannen kein Problem mehr. Der theoretisch voll umschiessende Anschlag passt leider nicht wirklich, wenn das Ende des Ausfallendes nicht in senkrechter Ausdehnung schmal gestaltet ist. Bei Ausfallenden, wo der obere 'Schenkel' ganz hinten direkt nach oben fluchtet, ist eine Nachbearbeitung leider notwendig, da sonst der Anschlag kippelt, da nur eine Seite des Anschlages bündig anliegt. Die O-Scheibe für die Achse könnte einen Millimeter dicker sein, das schont das Gewinde der Achse. Bei dem günstigen Preis kann man wirklich nichts falsch machen.
"Hat verlässlich die Kette am Dirtbike gespannt..."