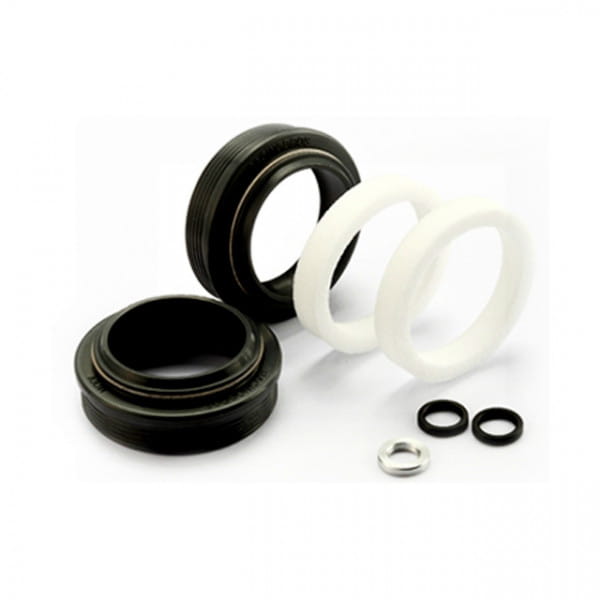 Racingbros Modi Low Friction Wiper Set 34mm
Description
More performance at a better price - so why use standard seals?
The special feature of these wipers is the admixture of MOS2, graphite as well as PTFE in the Lycran material. This results in a very low breakaway torque, which improves fork response.
Racingbros' one-piece Modi Performance wipers combine a dust wiper and oil seal in one component. As a result, they can withstand higher system pressures of up to 20kg/cm², compared to traditional two-piece seals.
The oil inside the fork is reliably kept in the system while dirt, mud or sand is kept away from the inner workings of the suspension fork.
The high quality has been proven both in long-term testing of 20,000 suspensions under spray of mud, sand, water and ice and by numerous test riders in the development phase.
Absolutely waterproof and UV resistant
Working temperature from -25°-80° Celsius
Favourable in price
Compatibility:
FOX 34
FOX 34 Float
FOX 34 Float CTD
FOX 34 Float 29
FOX 34 Float RL
FOX 34 Float RLC
FOX 34 Talas
FOX 34 Talas CTD
FOX 34 831
X-Fusion Slant
X-Fusion Slant R
X-Fusion Slant RL2
X-Fusion Slant DLA
X-Fusion Sweep X-Fusion Trace
Property
| Property | Value |
| --- | --- |
| Accessory type | Gasket, Service kit |
Persönliche Empfehlung
Evaluations
"Fox fork 10W oil is as described, serviced fox float 34 with this fluid and has been running better than ever. "
This is the only oil to use in Fox Shock applications.
"Montage hat sehr einfach funktioniert"
Also bis jetzt bin ich von den Racing Bros Teilen begeistert. Die Montage war einfach. Ich hatte mir das entsprechende Werkzeug zum eintreiben hier im Shop gekauft. Damit ging es leicht von der Hand. Bezüglich der Qualität kann ich erst in ein paar Wochen was schreiben. Laut Meinung vieler anderer ist das die bessere Wahl im Gegensatz zum Original von Fox.