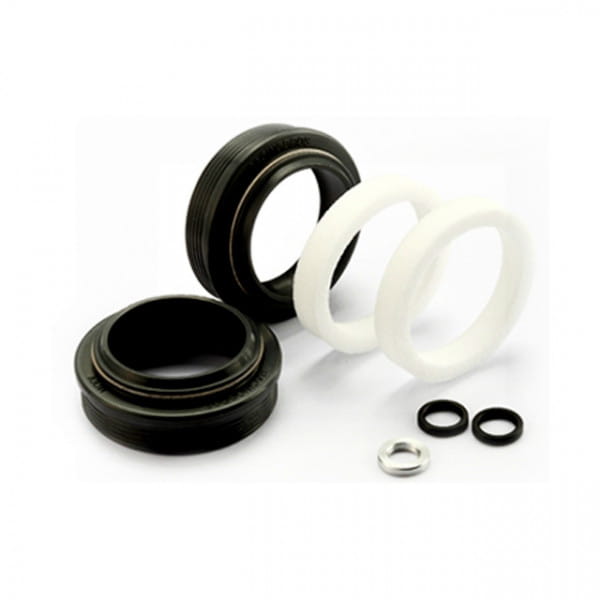 Racingbros Modi Low Friction Wiper Set 32mm
Description
More performance at a better price - so why use standard seals?
The special feature of these wipers is the admixture of MOS2, graphite as well as PTFE in the Lycran material. This results in a very low breakaway torque, which improves fork response.
Racingbros' one-piece Modi Performance wipers combine a dust wiper and oil seal in one component. As a result, they can withstand higher system pressures of up to 20kg/cm² compared to conventional two-piece seals. The oil inside the fork is reliably kept in the system while dirt, mud or sand are kept away from the inner workings of the suspension fork.
Both in long-term testing of 20,000 suspensions under spraying of mud, sand, water and ice and with numerous test pilots in the development phase, the high quality has been proven:
Absolutely waterproof and UV resistant
Working temperature from -25°-80° Celsius
Favourable in price
Compatibility:
FOX 32
FOX 32 VAN
FOX 32 VANILLA RL
FOX 32 VAN VANILLA RLC
FOX 32 Float
FOX 32 Float CTD
FOX 32 Float 29
FOX 32 Float RL
FOX 32 Float RLC
FOX 32 Talas
FOX 32 Talas RL
FOX 32 Talas CTD
FOX 32 Talas 180
Rock Shox Boxxer 2006-2009
Rock Shox Revelation
Rock Shox Revelation RL
Rock Shox Revelation RLT
Rock Shox Sector
Rock Shox Reba
Rock Shox Pike
X-Fusion Velvet
X-Fusion Velvet RL
X-Fusion Velour
X-Fusion Velour RL
Specialized AFR
Property
| Property | Value |
| --- | --- |
| Accessory type | Gasket, Service kit |
Persönliche Empfehlung
Evaluations
"Nicht billig, sondern den Preis wert"
Vorab , bei BMO bestellt, Laufzeit bis zum eintreffen bei mir 24 Std., Pfingsten gerettet. Danke dafür !!
Die Abstreifer ließen sich in meine Fox Gabel (Fox 32 FRL 100mm open Bath, BJ 2010) ohne weiteres Spezialwerkzeug einbauen.
Lediglich ein leichter Gummihammer und eine 32er Nuss, aus der Werkzeugkiste waren nötig.
Gabel ist wieder absolut dicht. Das Losbrechmoment, subjektiv sogar besser als bei den Originalen Abstreifringen.
"Top"
Top! Im Gegensatz zu originalen Teilen von Fox .Einfach einzubauen und dabei auch noch preiswerter.
"Einfach einzubauen. Kein Spezialwerkzeug notwendig."
Die Teile erfüllen ihren Zweck komplett fehlerfrei. Kein Öl an den Tauchrohren und sehr sensibles Ansprechverhalten der Gabel.
"Besser als original Fox, dafür preiswerter. Was will man mehr?"
Besser als original Fox, dafür preiswerter. Was will man mehr?
"Top"
Lassen sich, im Gegensatz zu den originalen Fox Abstreifern, deutlich einfacher einpressen. Ansonsten gibt es auch so nichts zu bemängeln.