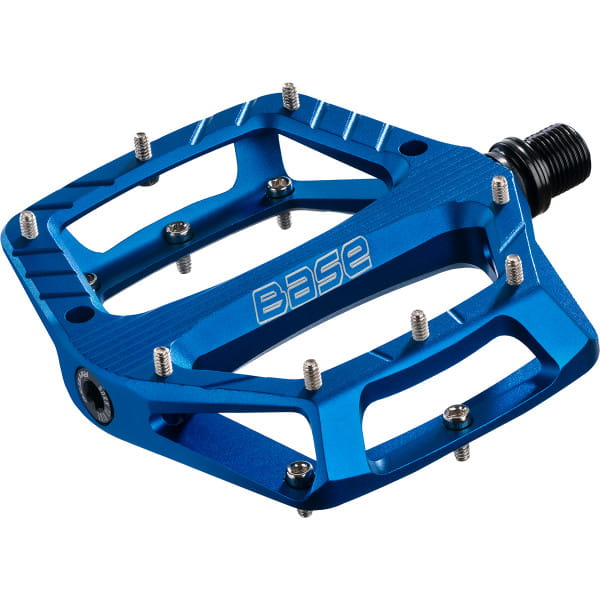 Reverse Base pedals - blue
Description
Large, wide and grippy. The Base pedal is a new product that combines our knowledge of nearly 20 years of pedal manufacturing with an absolute market first:
.
The "Baurillium" plain bearing from Reverse!
Our newly developed "Baurillium" plain bearing provides a long-lasting and low-maintenance bearing. This plain bearing replaces plastic or Teflon plain bearings with a special metal alloy with particularly good sliding & lubricating properties. This bearing is significantly more resilient and has a long service life. Permanent lubrication is produced by the metal alloy provided with micropores.
.
A large concave platform ensures that your foot is firmly on the pedal. This allows a direct impact on the bike and slipping is thus a thing of the past. The technically well thought-out design of the pedal body deflects shocks and reduces getting stuck on roots or stones. The milled pedal body of 6061-T6 aluminum with our proven CrMo steel axle form a super robust pedal.
.
The extra over the total length pronounced thread on the pins, provides additional support and anchors your shoe sole with the pedal securely. Optionally, different pin lengths (9 mm, 11 mm and 13 mm) to personalize the desired grip level are available as accessories.
.
Features
.
Material: aluminum 6061-T6 (pedal) / CrMo steel (axle) / steel (pins)
Pedal size: 116 x 104 mm
Pedal size: 106 x 104 mm
Pedal height: 20 mm
Pedal thread: 9/16"
Surface: concave tread with additional milling for optimal grip
.
Bearing: 1 x multi-sealed industrial bearing / 1 x reverse baurillium plain bearing
.
Pins: 16 steel pins per pedal (US size 6/32" with 11mm) (optionally available: 9mm & 13mm pins)
Pin height: 6mm above pedal with standard 11mm pins (optional: 8mm above pedal with 13mm pins / 4mm above pedal with 9mm pins)
Weight: 420 g in pair (+/- 5% weight tolerance)
Property
| Property | Value |
| --- | --- |
| Color | Blue |
| Material Feed | Aluminium 6061-T6 (Pedal) / CrMo-Stahl (Achse) / Stahl (Pins) |
Persönliche Empfehlung