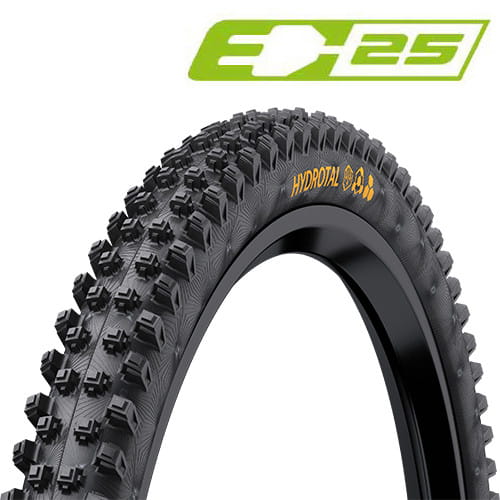 Continental Hydrotal Downhill TL-Ready E-25 Falt Supersoft black / black skin - 60-622
Description
Specialist for loose and muddy ground
.
Tapered and supported profile elements to obtain a high interaction between cleats and soil. In this way, high mechanical grip is obtained by easy penetration of the lugs into the soil.
Open tread pattern for perfect tread interatkion on loose surfaces. For excellent tread-soil interaction and self-cleaning.
Support structure and linearly arranged shoulder lugs ensure high stability during aggressive and tight turns on unpaved and muddy surfaces.
.
6/660 tpi downhill casing for high resistance and puncture protection
.
Apex for high puncture protection
.
Tire compound with BlackChili
Tubeless Ready capable - optimized foot area for reliable sealing
.
foldable aramid core
Cross-woven nettle tape protects the tire and rim area
made in Germany
SuperSoft compound
Mixture with the strongest grip. Our softest compound with the highest grip in the MTB Gravity range.
Specially designed for downhill and enduro applications that consist mainly of descents. This compound is ideal for riders who rely 100% on grip, traction and control. Recommended for applications that consist largely of downhill.
.
Size: ETRTO 60-622 (29.0 x 2.40")
Type: folding tire
.
Technology: Apex
Compound: SuperSoft / Black Chili
Color: Black
Weight: 1290 g
Pressure: 2.5 - 3.5 bar
TPI: 6/660
TL Ready: yes
Property
| Property | Value |
| --- | --- |
| Color | Black |
| Model year | 2022 |
| Tyre size | 29 inch - ETRTO 622 mm |
| Tyre width | 2.4 inch |
| Weight | 1,29 kg |
Persönliche Empfehlung