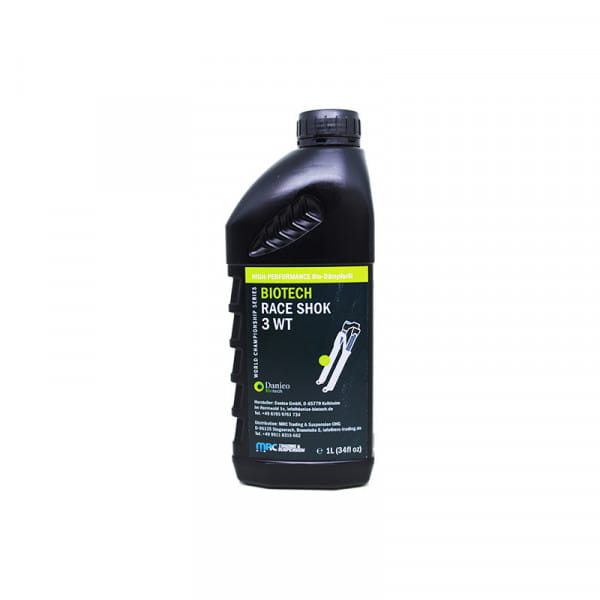 Danico Biotech Race Shok Damper/Fork Oil - 1 Liter
Description
Biotech Race Shok stands for a new and contemporary generation of high-tech biolubricants. In the development of the damper oil, a lot of emphasis was placed on precise and low-resonance response. Biotech Race Shok is a climate-friendly bio-lubricant based on renewable raw materials. Therefore Biotech Race Shok is easily biodegradable and meets the strict OECD environmental standard 301B. According to the Administrative Regulation on Substances Hazardous to Water (VwVwS) of 27 July 2005, the product is classified as not hazardous to water (nwg) for groundwater.
The technical suitability results from the structures and lubricating properties of the base oils used, which effectively reduce friction during driving. Due to the very high viscosity index, optimum low-temperature properties and uniform response across all temperature ranges result. The film-forming properties of the base oils protect components from corrosion and wear for longer.
Biotech Race Shok is generally suitable as a high performance shock oil for industrial shocks, and on two-wheelers for suspension forks and rear suspension. It is very suitable for hard racing and everyday use.
Due to the high viscosity index, which is achieved without additives, the damper oil is suitable for all common temperature ranges.
The better lubricating effect of the esters used lowers the oil temperature during driving. The service temperature range is between -30 and +120°C. Thus, Biotech Race Shok is suitable for almost all temperature zones.
TIP: After cleaning, a subsequent treatment of the sliding running surfaces of the fork and damper with Biotech Fork Lube provides additional protection against moisture and corrosion. The sliding ability of the Simmerrings is noticeably improved. Stick-slip is also prevented. The suspension thus responds even more sensitively.
Viscosities: 1.5WT, 3WT, 5WT, 7WT, 10WT
Successfully race-tested at elite international races
Reduces friction and wear
long lasting
100% shear stable
VOC-free
made in Germany
Content: 1 liter
Property
| Property | Value |
| --- | --- |
| Filling quantity | 1000 ml |
Personal recommendation