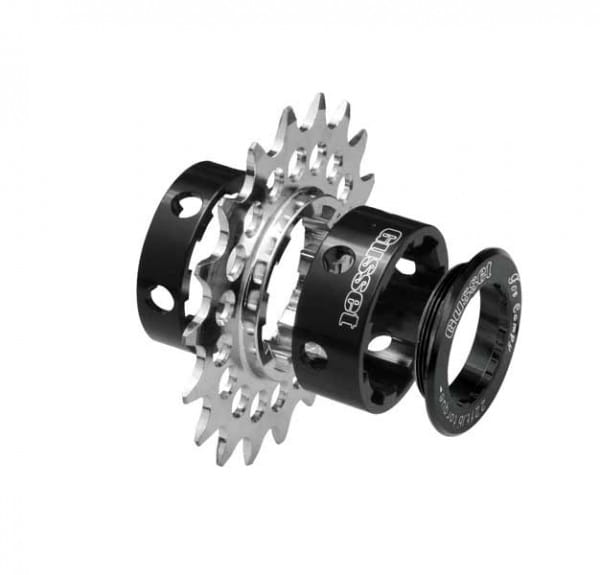 Gusset 66C Singlespeed kit for Campagnolo freewheels
Description
If you have a Campagnolo compatible rear wheel, but want to ride Singlespeed, then the 66C conversion kit from Gusset is right for you.
The sprocket's 10mm wide bearing surface distributes power over a larger area, preventing the sprocket from seizing.
The super light, drilled and toothed spacers allow adjustment of the chainline. Equipped with 18 tooth sprocket.
Campagnolo 9/10-speed compatible
CNC milled steel sprocket
Lightweight drilled sprockets and spacers
10mm wide sprocket support prevents seizing on the freewheel body
Adjustable chainline with spacers
5/64'' teeth suitable for 1-9-speed chains
Property
| Property | Value |
| --- | --- |
| Color | Black |
| Gradation | 18 Zähne |
Persönliche Empfehlung
Evaluations
"Gute Qualität und passgenau .Zu empfehlen "
Sehr gute Qualität und Passgenauigkeit .
Für die genaue Kettenlinie vermisse ich eine bessere Spaceraufteilung n.
Nur 2 Stück werden geliefert
"keine Alternative"
sehr passgenau und schön verarbeitet. Einstellbarkeit könnte etwas besser gelöst sein, da nur zwei Spacer vorhanden. Wer aber ein Kit für Campa Freiläufe sucht, kommt am Gusses 66C wohl nicht vorbei.
"works fine"
it works mechanically without problem.the sprocket size could be 1/8 inc.
"Macht was es soll"
Hat bei mir sehr gut gepasst, auch was die Kettenlinie angeht.

Leider gibt es nur zwei Spacer, die Kettenlinie lässt sich also nur begrenzt einstellen. Das ist angesichts des Preises, im vergleich zu anderen Single-Speed-Kits etwas schade.

Trotzdem Empfehlung