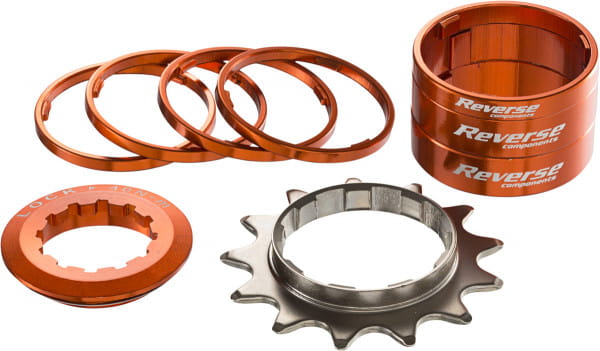 Reverse Singlespeed Kit 13T Sprocket + 7 Spacer - orange
Description
With the single-speed conversion kit by Reverse Components it is possible to convert a conventional hub with freewheel body to single-speed. To be able to guarantee a straight chain line, the sprocket can be optimally positioned on the freewheel body thanks to a total of seven different spacers.
The spacer kit is available in eight different colors.
Material: aluminum (SPacer), pinion (steel)
Weight: 49 g
7 spacers in the set ( 2 x 10 mm, 1 x 5 mm, 4 x 3 mm)
Lockring in corresponding color
Property
| Property | Value |
| --- | --- |
| Color | Orange |
| Gradation | 13 teeth |
Persönliche Empfehlung
Evaluations
"Gut justierbar"
Gut justierbare Position des Ritzels durch kleinteilige Abstufung der Spacer. Habe das Set in schwarz als Ergänzung zu Con-Tec Umbausatz gekauft. Con-Tec hat ein 16T & 18T Ritzel inklusive, allerdings nur sehr grobe Spacer. Der bei Reverse beiliegende Lockring funktioniert sehr gut. Erstens ebenfalls schwarz und zusätzlich mit innenliegender Federscheibe - verhindert zusätzlich das sich-lösen.
"Fühlt sich hochwertig an, passt perfekt"
War sehr leicht zu montieren, passt und hat kein Spiel. Konnte keine Grate o.ä. feststellen. Kleiner Abzug in der B-Note, weil ich noch einen sehr dünnen vorhandenen Metallring als Spacer verwenden musste, damit alles wirklich perfekt abschließt (vorher war ein 10fach Ritzel montiert).
"Hochwertiges und einfach zu installierendes Singlespeed-Kit"
Das Singlespeed-Kit ist super einfach einzubauen und durch die verschiedenen Spacer passt es auch sicher auf jeden Standard Freilaufkörper.
"Alles top!"
Leichter Einbau , einwandfrei gepasst, läuft super!
"Nice part"
Sehr schnelle Lieferung und das Kit ist schnell montiert und die Qualität passt auch
"Top"
Super Verarbeitung!
Das einzig Störende ist, dass der Reverse-Schriftzug der Spacer nicht auf gleicher Höhe ist.