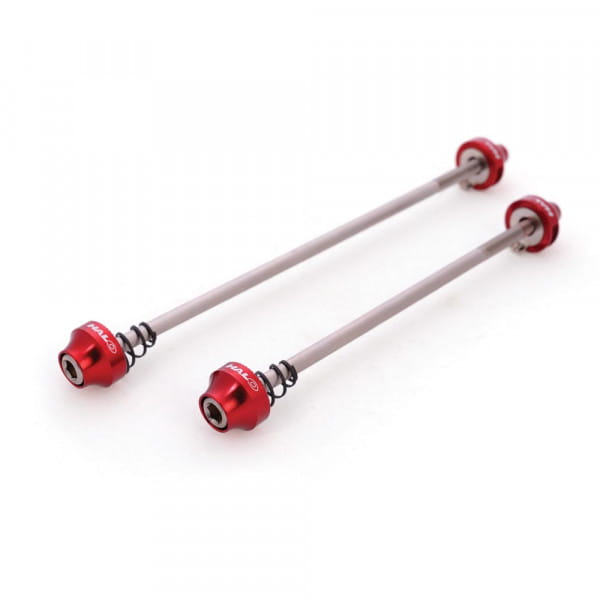 Halo Hex quick release skewers VR and HR pair - standard size - red
Description
Anodized end caps with Allen key receptacle provide a cool, minimal look. A CrMo threaded rod provides the necessary stability. The Halo Hex are the replacement for a classic quick release, these are lightweight, slim and the ideal update for even greater security - as there is no quick release lever which can come undone.
The ''nut'' is equipped with an anti-twist system, which not only increases safety, but also makes installation and removal easier at the same time.
CrMo threaded rod
Rippled aluminum grip surface for even more grip
Material: steel axle, aluminum end caps
Color: blue, gold, green, black, red, purple, white
max. tightening torque: 7 Nm
Size: standard (front: 100 mm x 6 mm, rear: 135 mm x 6.5 / 130 mm x 9 mm)
Weight: 73 g
Property
| Property | Value |
| --- | --- |
| Material | Aluminium, Steel |
| Color | Red |
| Material Feed | Stahlachse, Alu Endkappen |
Persönliche Empfehlung
Evaluations
"Wie beschrieben..."
Genau wie beschrieben. Sehr gut.
"Does what is says on the box"
VERY detailed instruction. Simple and easy to install.
"gute schnellspanner empfehlenswert"
gute schnellspanner

diebstahlsicher und sogar für starrgabeln geeignet =)

bin froh sie zu haben
"coole optik"
gute optik zum kleinen preis.
"Macht seinen Job."
Macht was er soll. Wirkt solide verarbeitet, auch wenn er den nächsten Atomkrieg wohl nicht überleben wird. Superleichter Einbau auch für einen Noob wie mich.
"Empfehlenswert - Das Produkt hält was es verspricht!"
Das Produkt hält was es verspricht, sieht gut aus und lässt sich schnell und einfach montieren. Kleine Anmerkung: Leider ist der hintere Schnellspanner etwas zu lang, deshalb schaut das Gewinde etwas raus wenn man es bei einem Singlespeed-Laufradsatz verbaut (sofern der Laufradsatz mal von einem Rennrad stammte).
"guter Ersatz zu Schnellspanner"
Mit Schnellspanner ist es ja immer so eine Sache mit der Sicherheit in der Stadt. Das ist ist eine gute und günstige Alternative. Die Verarbeitung ist ebenfalls gut gelungen.
Es gibt zwar noch sichere Systeme, aber für das normale Stadtrad reicht das hier völlig aus.