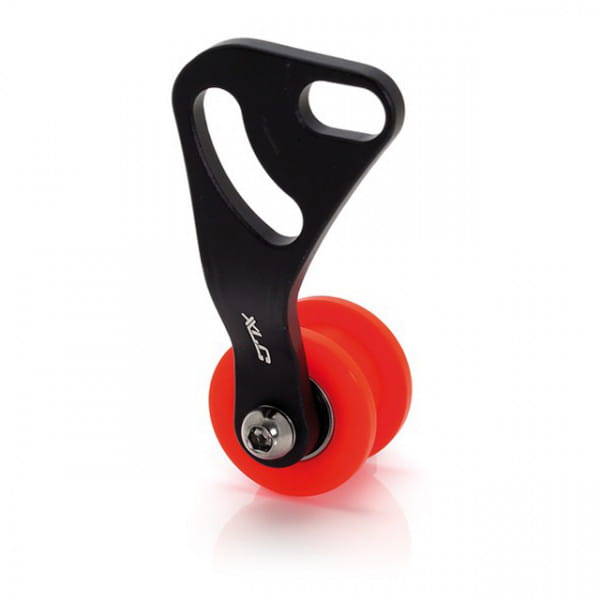 XLC CR-A05 Chain tensioner
Description
The CR-A05 by XLC is one of the most functional chain tensioners with its design. With a bit of luck, you can guide it to the chain from below and thus tension it. From above, it's generally not a problem.
Chain tensioner for frames with vertical dropouts and derailleur hanger.
Material: Aluminium 6061-T6 CNC
also for 2-speed chainrings
Roller with industrial bearing
Does not affect chainline, thanks to very wide PU chain roller
Material: aluminium
Color: black
Weight: 95 g including mounting hardware
Property
| Property | Value |
| --- | --- |
| Color | Black |
Persönliche Empfehlung
Evaluations
"Nicht perfekt"
Der Kettenspanner erledigt seine Funktion schon sehr gut, er ist geräuscharm, er sieht schön aus. Er hat leider das Problem, dass die Kette auf der zu breiten Führung wandert. Besonders wenn die Rolle dreckig ist, wandert die Kette z.B zu weit auf eine Seite, sodass die Kette vom Ritzel abspringt. Das passiert wenn die Fahrbahn dreckig ist oder wenn seitliche Kräfte auf die Kette wirken, z.B auf dem Schotterweg. Ich werde mir einen neuen Kettenspanner kaufen, der auch wie eine Kettenführung dienen kann und eine unerwünschte Abweichung von der Kettenlinie nicht möglich ist.
"Gut und günstig"
Gute Qualität. Passt genau. Lediglich das Rollgeräusch könnte leiser sein. Ansonsten spannt er die Kette bei meinem Singlespeed sehr gut. Gut ist auch die beigelegte Gegenmutter für die Radspannnarbe. Die Originale passt nämlich nach Anbau nicht mehr.